Prince Charles became the sovereign of the stage for a moment as he outshined a group of Britain's best actors including Sir Ian McKellen, Benedict Cumberatch and Dame Judi Dench during a hilarious sketch to mark the 400th anniversary of William Shakespeare's death.
Charles, Prince of Wales, was last to appear in the scripted fracas whereby the likes of Paapa Essiedu, Tim Mitchin, David Tennant, Harriet Walter and Rory Kinnear also joined the theatre legends in a debate of how to act out the line "To be, or not to be, that is the question."
The BBC's live celebration of the UK's most treasured writer in English literature on Saturday night (23 April) saw McKellen, Dench and the other actors and personalities giving their didactic advice on how to perform the famous Hamlet soliloquy. Comedian Tim Minchin insisted that the word 'or' should be emphasised in the line, whilst the others had clashing opinions. Minchin also mistook Cumberbatch for Eddie Redmayne and began taking selfies with him on stage.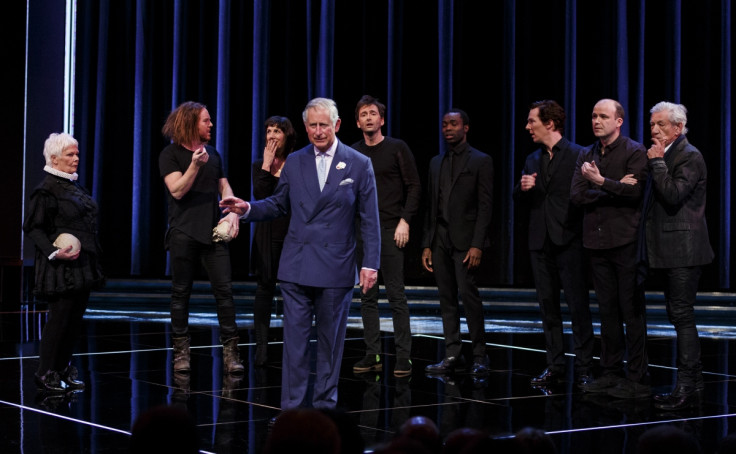 The Prince of Wales became the Prince of Denmark for a short while as he made his theatrical debut, and received the biggest applause before telling us all how he'd say the famous line. Walking through the audience and attempting to silence the bickering actors, Prince Charles asked if he "might have a word, just a minute?" to decide that the prominence should be on the word "question" before inviting raucous laughter.
Shakespeare Live! celebrated Britain's most famous playwright in a light-hearted tribute, with other performances including Catherine Tate's take on The Seven Ages of Man from As You Like It.
Tributes were lead to the writer by the Prince of Wales, who laid a wreath on his grave in Holy Trinity Church and toured the New Place, the site where Shakespeare spend the last 19 years of his life and wrote some of his best works, including The Tempest. Prince Charles' wreath was made of sprigs of rosemary and referenced Ophelia's final act of handing out the herb, reading: "for remembrance. Pray you, love, remember."