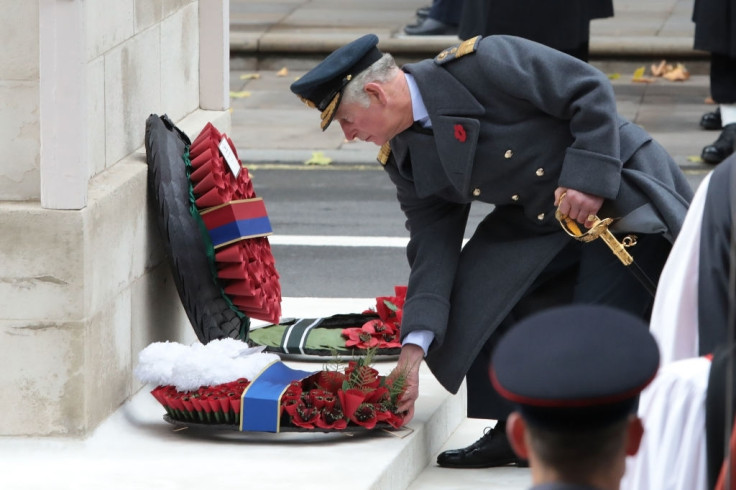 Prince Charles has led Britain's annual Remembrance Sunday ceremony for war dead, taking the role held for more than six decades by his mother, Queen Elizabeth II.
The 91-year-old queen watched the service at London's Cenotaph memorial from a balcony alongside her 96-year-old husband Prince Philip.
The monarch, who is reducing her public duties after 65 years on the throne, had asked her son to lay a wreath of poppies on her behalf.
Britain's political leaders and dignitaries from the Commonwealth also attended the ceremony in central London, laying wreaths on the Portland stone monument inscribed with the words "the glorious dead."
It is the first time in her 65-year reign that the Queen has attended the Remembrance Day service but not taken an active roll. The 91-year-old watched from the balcony of the Commonwealth Office.
The Queen stood alongside her husband the Duke of Edinburgh and the Duchess of Cornwall. Buckingham Palace said it was the Queen's wish to watch the service at the side of her husband, and that she had asked Prince Charles to lay her wreath on her behalf. The Duke's wreath was laid by an equerry, before Prince Charles laid his own, his second of the service.
Thousands of military personnel, veterans and members of the public gathered on a cold, sunny day to honour those killed in World War I and subsequent conflicts.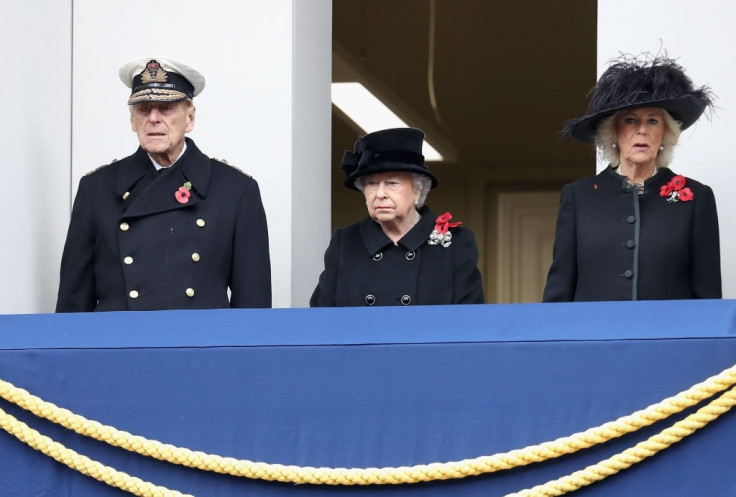 Whitehall, the wide street lined with government buildings where the Cenotaph stands, fell silent as Parliament's Big Ben bell sounded 11 am The two-minute pause was broken by a bugler sounding The Last Post.
After the formal wreath-laying, thousands of veterans, war widows and their families marched past the monument to the sound of a military band, applauded by well-wishers lining the sidewalks. Almost everyone wore a red paper poppy — the official symbol of remembrance — on their lapel.
The ceremony takes place every year on the nearest Sunday to the anniversary of the end of World War I on 11 November, 1918. Similar ceremonies were held in dozens of towns and cities across Britain and at British military bases overseas.
In the Northern Ireland town of Omagh, the Remembrance Sunday parade was disrupted when a suspicious device was found near a war memorial. Police cordoned off the area and Police Service of Northern Ireland chief inspector Graham Dodds said it was "a sickening attempt by cowards to create fear and disruption."
Omagh was the site of the deadliest bombing of Northern Ireland's decades-long Catholic-Protestant conflict, where Irish Republican Army dissidents killed 29 people with a car bomb in 1998.