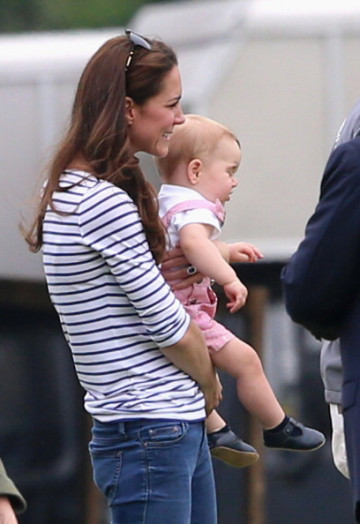 While Prince William and Prince Harry were battling it out on the polo field, all eyes were on Prince George.
The toddler had come along with his mother, Kate Middleton, to the Cirencester Park Polo Club to watch his dad play on his first Father's Day.
Dressed in a pair of pink dungarees and a white polo shirt, the young prince, was quite the handful, wriggling in his mother's arms in an attempt to crawl away to explore his surroundings.
After giving his mother a run around, Prince George giggled happily as Kate relented and allowed him to grab on to a mallet while walking through the pony lines.
The young Prince, who turns one next month is beginning to walk, and even took a few steps before reverting to crawling. The curious toddler was quickly scooped back up into his mother's arms.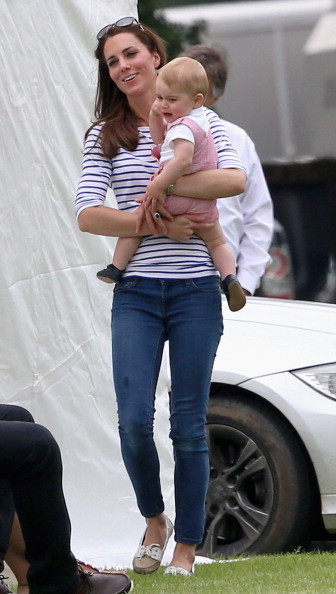 The Duchess of Cambridge looked stylish in a casual outfit, comprising her favourite Me + Em breton striped top with a pair of skinny dark blue jeans.
Kate was seen blowing a kiss and beaming broadly, as she watched Prince William and Prince Harry who were taking part in the annual Jerudong Trophy polo match.
The Duke of Cambridge played at the annual charity match last year, just days before the birth of his son.
This year's event was a family affair with The Queen and the Duke of Edinburgh also attending to watch the action during the Cartier Polo Cup, held at Guards Polo Club in Windsor Great Park.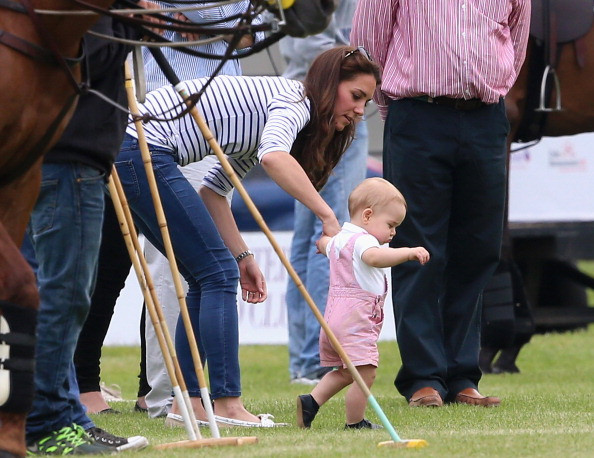 The family gathering follows the appearance by the senior royals on the balcony of Buckingham Palace for the Trooping of the Colour yesterday. (15 June)
Kate Middleton was in stitches as Prince Harry entertained the royals gathered for the RAF Flypast.
Following on from a state visit to France for the D-Day celebrations, and the celebrations for her official birthday, The Queen will also make an appearance at Royal Ascot next week.