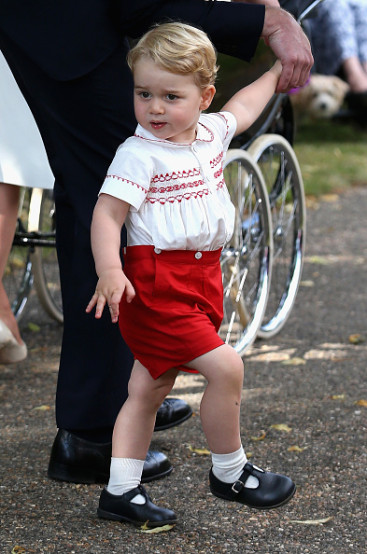 Ahead of Prince George Alexander Louis of Cambridge's second birthday, the Royal Mint is releasing a limited edition sterling silver £5 coin to mark the occasion.
The Duke and Duchess of Cambridge's son will officially enter the troublesome twos on 22 July 2015.
The coin – which has been created especially for the young royal's big day – features the legend of St George and the dragon re-imagined by artist Christopher Le Brun, while the flip side shows a portrait of The Queen by Jody Clark.
The Royal Mint's Shane Bissett said: "The choice of the St George design to honour Prince George's birthday is an apt one – the name George has long had links with the British monarchy and its coinage, there having been six kings of that name during the Royal Mint's 1,000-year history."
While the coin only has a value of £5, royalists will have to fork out £80 if they want to get their hands on one of the 7,500 available.
Bissett added: "The choice of a silver £5 coin is significant too as the tradition of crossing the palm of a newborn baby with silver is a way to wish them wealth and good health throughout their life."
Similar special coins were previously released by the Royal Mint to mark the birth and christening of the third-in-line to the throne.
Days after his birth 2,013 silver pennies were given out to babies born on the same day.