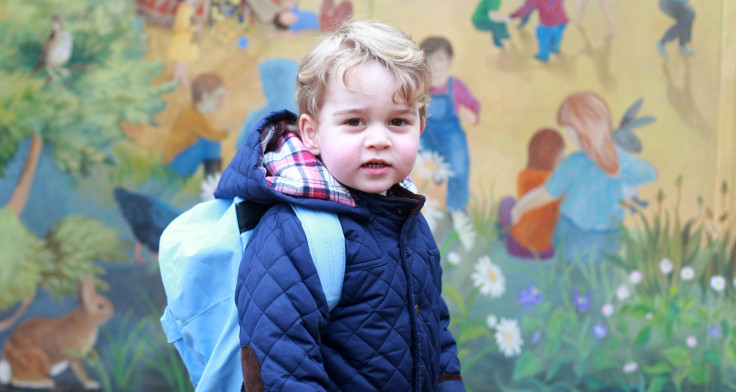 Prince George's new school Thomas's Battersea has been criticised for a lack of security by local residents after one local was able to walk its halls unchallenged after finding entrances to the building were left unlocked.
The four-year-old, who is third in line to the throne, will start at the school on Thursday (7 September), with Kensington Palace facing questions about the measures being taken to ensure the prince's safety over the years ahead.
It has been reported that royal protection officers will work around the clock to ensure the school is secure, as part of a "significant" operation to protect Prince George.
It is hoped that the measures will not affect any of the children enrolled at the school and that they will not even notice the security arrangements.
Sarah Burnett-Moore, a doctor, the local resident who made the claims said the lack of security ahead of the start of term was "astonishing".
"I could have walked in with an IED [improvised explosive device] and set it to go off on Thursday," she told The Telegraph.
"I live just 200 metres from the school and myself and lots of neighbours are worried about the security implications as the prince's presence will make the area a target for attacks."
The school was closed for the summer when Ms Burnett-Moore claims to have walked through the building unchallenged, having found the school's main entrance and the large iron gate outside left open.
Over the summer break builders have been working on a major renovation of the school, extending the dining room and improving communal areas. Dozens of contractors have been working on site over the past few weeks.
The arrival of Prince George has seen a surge in interest in the area around Thomas's school, where estate agents have reported a 60% rise in interest in purchasing a home. Not that most people will be able to get into the sought-after school, where annual fees hover around £18,000.
The Duke and Duchess of Cambridge plan to drop off their son in his brand new uniform on his first day at school. The Duchess has also said she hopes to get involved in the school run: a 3.5 mile journey from Kensington Palace through Chelsea and over the Thames.