A leading LGBT website has defended its decision to publish an article drawing attention to socil media users referring to Prince George as a 'gay icon' after a politician joined a chorus of online condemnation.
PinkNews provoked the wrath of royalists after its controversial article headlined: 'People Think Prince George Looks Fabulous In This New Photo' went live on 25 July.
The article, written by Josh Jackman, was based on a picture of the four-year-old future King of England with his hands on his face in a helicopter in Germany during the royal European tour.
The journalist wrote: "Prince George has become a gay icon overnight.
"The monarch-to-be has always been cute and well-dressed, but one day before his fourth birthday, a photo of him excitedly holding his face changed everything.
"At least, that's what the people - sorry, his subjects - are saying."
The article added that children "are born with a sexuality, and should be encouraged to find it without it being assumed that they're straight".
It sparked outrage on social media, with one commentator fuming: "When people talk of four-year-old Prince George as a 'gay icon' you know tolerance has gone way too far." Another tweeted: "Distressing. Prince George is creepily described as a gay icon. He's a young child. Let that sink in."
The story also prompted fierce backlash from Jim Allister, leader of the Traditional Unionist Voice (TUV) party, who accused the publication of "sexualising" the Duke and Duchess of Cambridge's son.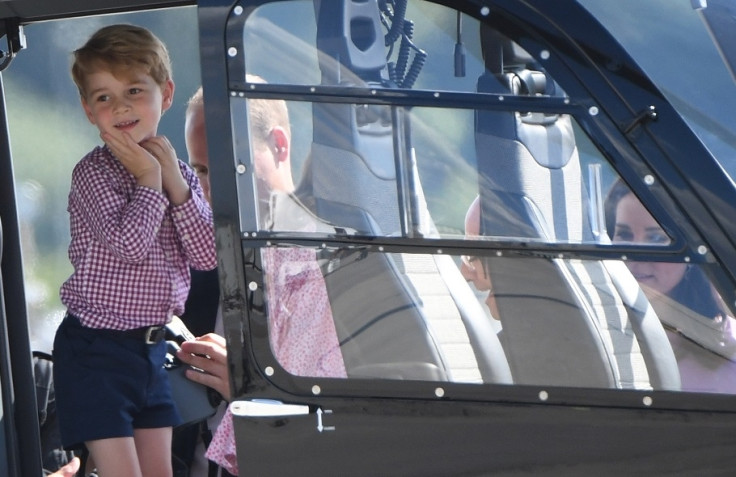 In a scathing letter of complaint, he demanded the story be removed and an apology from the site, "To take an image of a little boy and to fantasise of him being an icon for a life defined by sex is outrageous and sick," he said.
"In reality, the photo which prompted the piece shows a four-year-old boy who is smartly dressed and excited about being on a helicopter with his male father and female mother."
However, PinkNews's chief executive Benjamin Cohen, told BBC News NI he had "no intention" of removing the article saying it was legitimate piece of social commentary that was intended to be "tongue-in-cheek".
Cohen, who is a gay man, added that he was personally offended by some of the "repugnant" claims the Northern Ireland politician made in his letter of complaint.
"Mr Allister opposed the decriminalisation of homosexuality and was the only member of the Northern Irish Assembly to oppose pardons of gay men convicted of offences that would not be crimes today," he told the Mirror Online. "Mr Allister is not an impartial commentator on this issue, he is a person with a long history of opposing the rights of LGBT people."