Prince Harry was met with thousands of fans at the Sydney Opera House on Thursday (7 May) as his month-long Australian military deployment came to an end.
But it appeared as if one eager admirer wanted more than just a chat with the prince however, when they asked Harry for a kiss.
Victoria McRae, a university student wearing an Australian flag dress and tiara, was front-row to give the prince a good send off and was brandishing a sign saying "Marry me, Prince Harry, last chance".
This wasn't the first time McRae had made the 30-year-old Prince such an offer though. She later admitted to local media: "I said I'd proposed twice before, that it was my third time lucky, and my sign said last chance so I said have a think about it."
And when Harry's response was just that, she bargained with him, suggesting she would settle for just a kiss on the cheek instead.
When the royal leaned in graciously, McRae swiftly turned her head and planted her lips right on top of his.
"He let me kiss him on the cheek but then I went in for it. The rest was history," she gleefully told the press. "It was amazing, it's meant to be, there's a lot of chemistry there I'd say."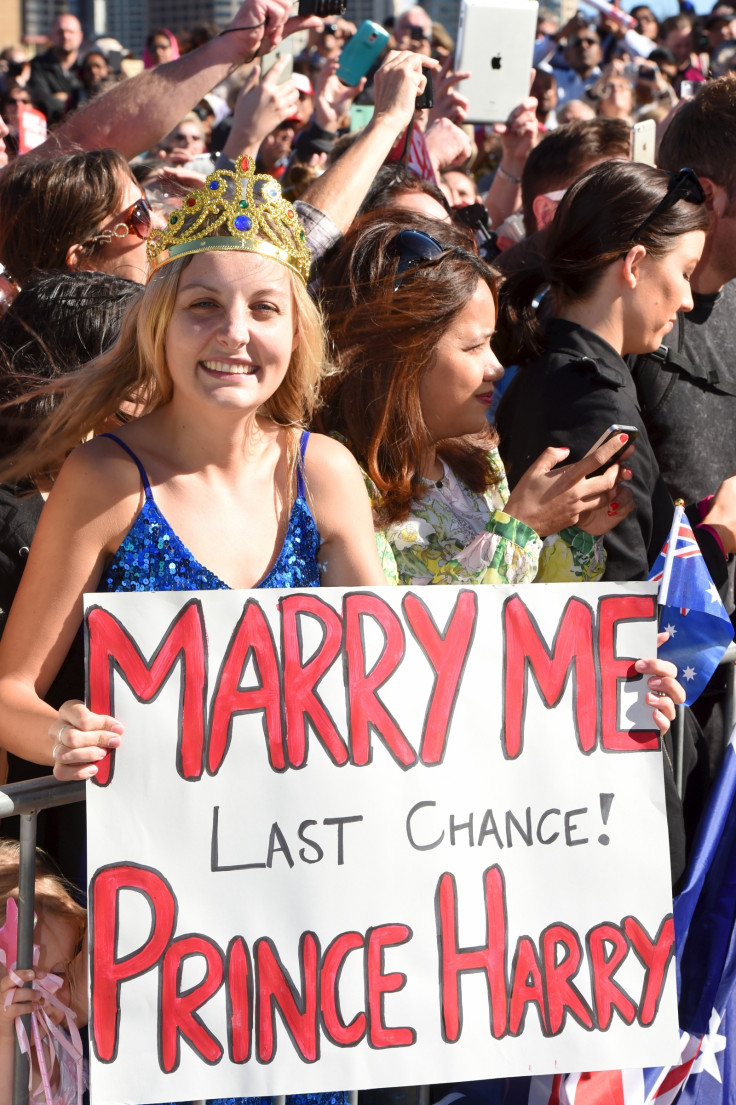 When Prince Harry, who wore army fatigues and a black beret, was asked about his exchange with McRae, he admitted that he "got more than one kiss" at the celebration of his secondment ending.
One of McRae's previous attempts to catch the prince's eye was back in 2013 when he was visiting for an international fleet review. The 21-year-old paddled a kayak into the middle of Sydney harbour to wave a flag which read "I (heart) U Harry" alongside her phone number.
After his royal highness had finished his rounds of the huge crowds, he travelled to Sydney Hospital where he visited Lieutenant Alistair Spearing, a British soldier who is being fitted with prosthetics at the facility, after losing both his legs in a bomb explosion in Afghanistan in 2011.
Speaking about his farewells from the people of Australia, an emotional Harry said: "I thought we were going to turn up and there would be 10 people there, so it's a wonderful opportunity for me to say thank you to them... they have made me feel so at home here. It's going to be hard to leave – I don't want to go home, I want to stay here."