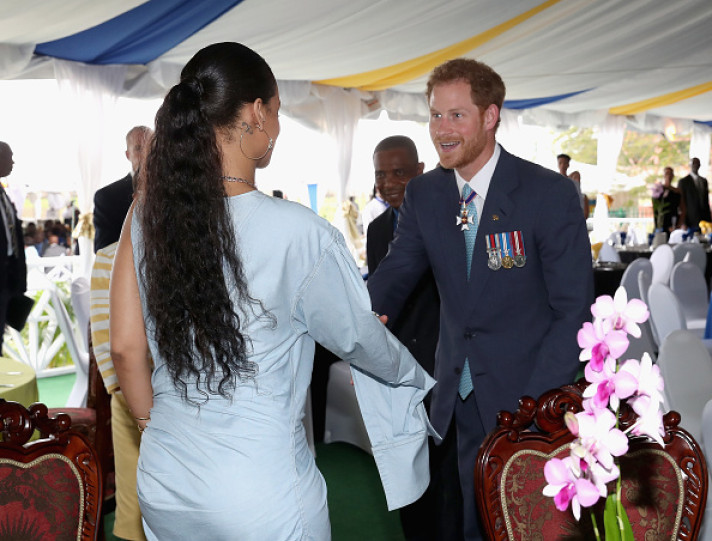 Prince Harry couldn't hide his delight as he was introduced to Barbadian pop star Rihanna.
The British royal, who is currently on a two-week tour of the Caribbean, met the We Found Love singer at an event marking 50 years of the country's independence on Wednesday (30 November).
The 32-year-old looked captivated, appearing to have a fanboy moment as he shook hands with the singer, who by contrast seemed to be playing it cool.
Dressed in a pale blue V-neck dress and gold bangles, with her hair tied back into a ponytail, the singer kept her style suitably demure for the royal visitor, in contrast with her bold on-stage looks.
While Rihanna is rumoured to be newly single after splitting with Drake, the meeting might not have come at the best time for the eligible pop star, as Prince Harry recently announced he is off the market after going public with his relationship with US actress Meghan Markle.
The trip coincides with Barbados' 50th year of independence as well as the 50th anniversary of independence for Guyana and the 35th anniversary of independence for Antigua and Barbuda.
After his brush with pop royalty it was back to official duties for Harry, who was attending Prime Minister Freundel Stuart's Toast to the Nation at St Ann's Fort.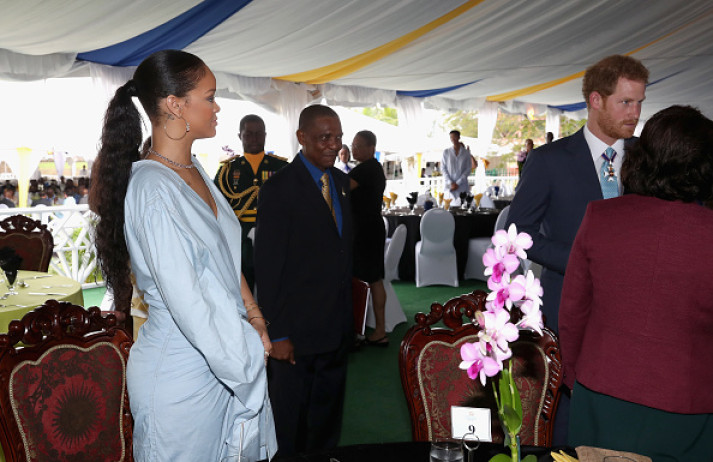 Taking to the stage, he delivered a personal message from the Queen congratulating Barbados on their anniversary. It read: "Prince Philip and I send our warmest wishes to the Government and the people of Barbados. Our countries have a shared history, shared values and an affection which continues to bind us."
The Queen also sent a tweet from the Royal Family's official Twitter account which read: "On this day of celebration, I send my congratulations to you on your Golden Jubilee of Independence."
Earlier the Prince met with sick children at the Queen Elizabeth Hospital in Bridgetown where he chatted to staff and health workers who were working over the Independence Day holiday.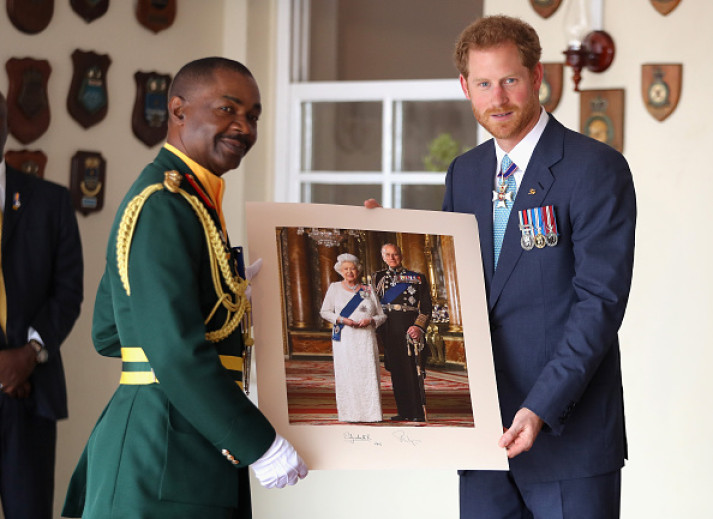 The Prince stopped to coo over seven-week-old Jean-Luc Jordan and gave a warm hug to a child in the paediatric ward.
His grandmother, the Queen, had also visited the hospital in February 1966, and today a plaque honouring that visit hangs on the wall.
Harry is nearing the end of his 15-day tour of the Caribbean which has so far taken him to St Kitt's and Nevis, Grenada and St Lucia. He will finish in Guyana with a special visit to the country's President David Granger, Mail Online reports.
He previously visited Barbados in January 2010, when he famously danced the calypso on stage during a charity concert.