Prince Harry is a knockout at boxing club visit and asks hopeful: 'Are you the next Muhammad Ali?'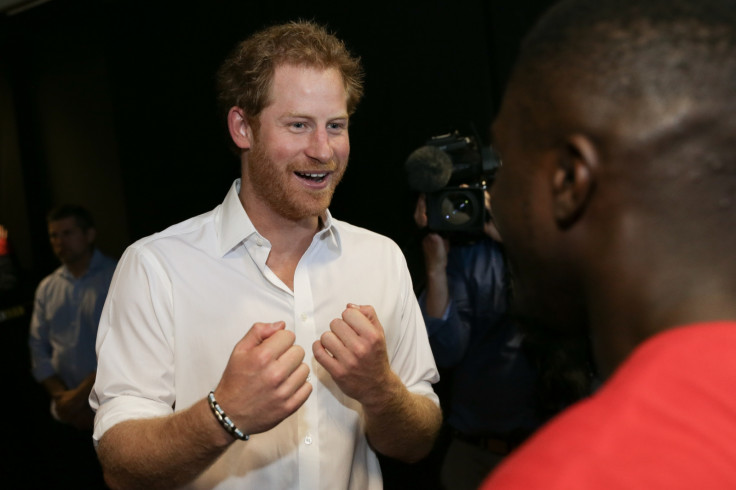 Prince Harry packed a punch for his visit to the Double Jab Boxing Club on Monday (6 June) in support of Sport For Social Development, looking spritely with his trademark grin in tow as he aimed to highlight the influence of sport in communities comprising of young, vulnerable people.
The 31-year-old prince sported a smart casual look in an unbuttoned white shirt with rolled up sleeves, navy trousers and light brown desert boots. His attendance at the Double Jab Amateur Boxing Club in London's New Cross was a knock-out as the royal conveyed the ways in which sport can be used as a platform for education, training, employment and personal growth.
Harry sat down in a boxing ring with the club founder, Patrick Harris, and other mentors to discuss the benefits of the sport, as it emerged that he also plans to work alongside charities, such as Sported, which supports over 3,000 community sport clubs and youth groups across Britain.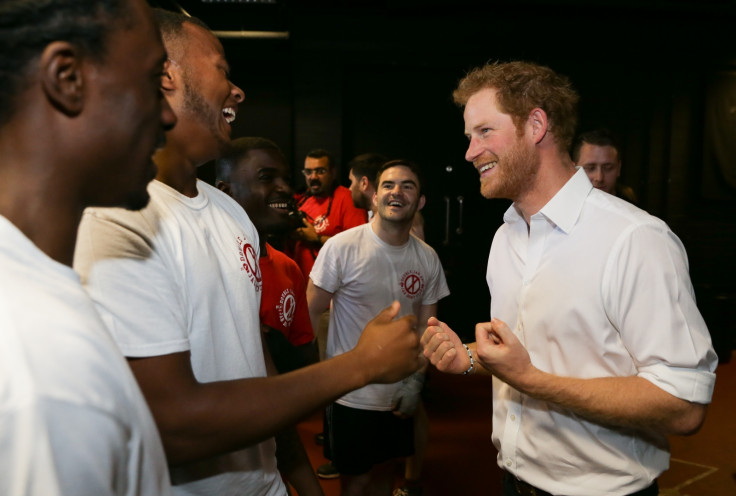 During his visit, the prince met and chatted with young athletes and sporting hopefuls before presenting them with medals and posing for group photos, along with participating in a gender neutral training session.
Discussing boxing, Harris said: "It's a way to keep fit and people like to have confrontation in the ring. It becomes a discipline, like a way of life."
Harry, who excelled in sports during his education at Eton, particularly polo and rugby, also took a shine to the 13-year-old aspiring boxer, Shanay, and was "blown away" by the talent he witnessed during his visit.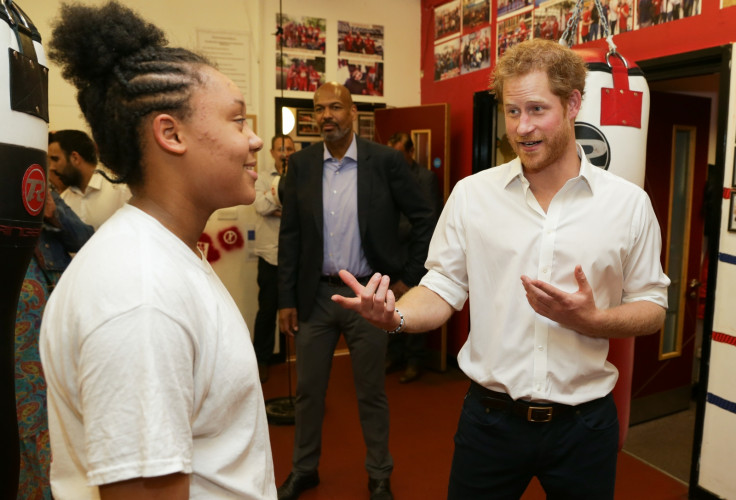 He divulged his passion for boxing and claimed it is one of his favourite sports, and that he had put on his boxing gloves on occasion in the past, citing: "No matter what your size, age or fitness, boxing is just fantastic."
But since he was casually dressed in non-sporting attire, he chose not to demonstrate his boxing skills in the ring.
Harry's visit to the boxing club is poignant just days after the death of boxing legend Muhammad Ali, and didn't fail to acknowledge the late sports star. He asked the promising fighter Ola Alausa, 25: "Are you going to be the next Muhammad Ali?"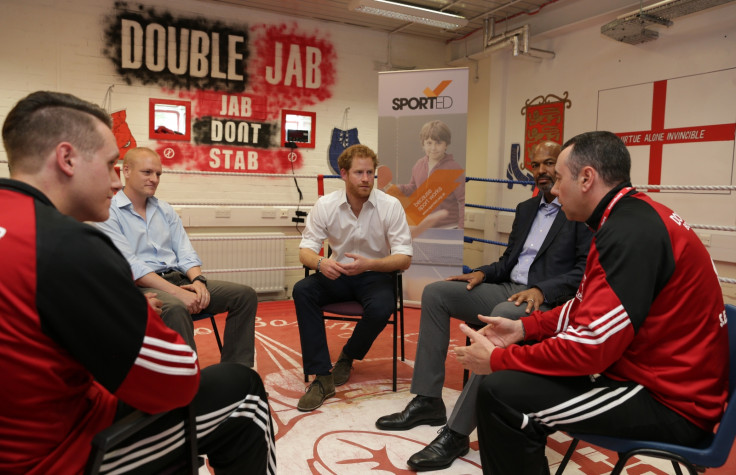 Alausa, who has boxed at the club since 2012, told reporters after the prince left: "He asked us whether it was a place that everyone was welcome. Some people, like myself, come here to get fit or lose weight and get hooked. Others come for different reasons. But what is great is that you can put everything outside here behind you and concentrate on their sport."
Harry also offered guidance to a 4-year-old boy, Raymond Harris, who showed off his impressive jabs. He told him: "You've got to go for the chin."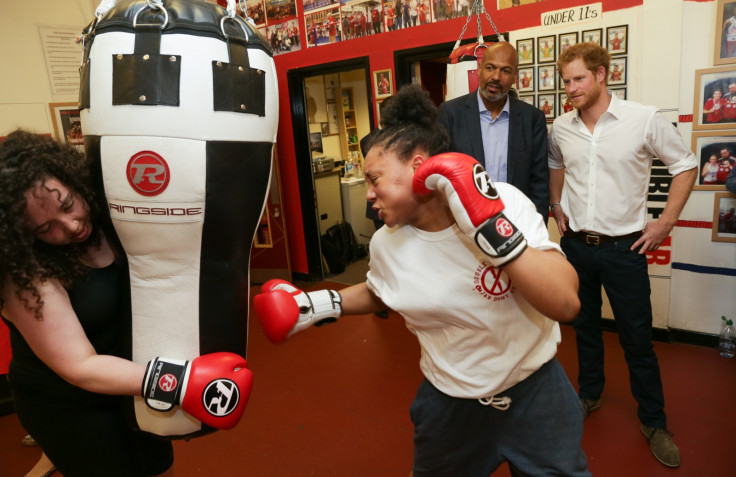 Prince Harry's spokesperson also underlined his enthusiasm for the sport, saying that he hopes to "develop his understanding of the sector and use his position to support the great work that is already taking place across the country to ensure that community sports groups continue to play a key role in improving the life chances of disadvantaged young people."
A Kensington palace spokesman claimed in a statement that the prince will be visiting clubs that are often "the unsung heroes in their towns and cities – to further his understanding of how sport can be used as a platform for education, training, employment and personal development."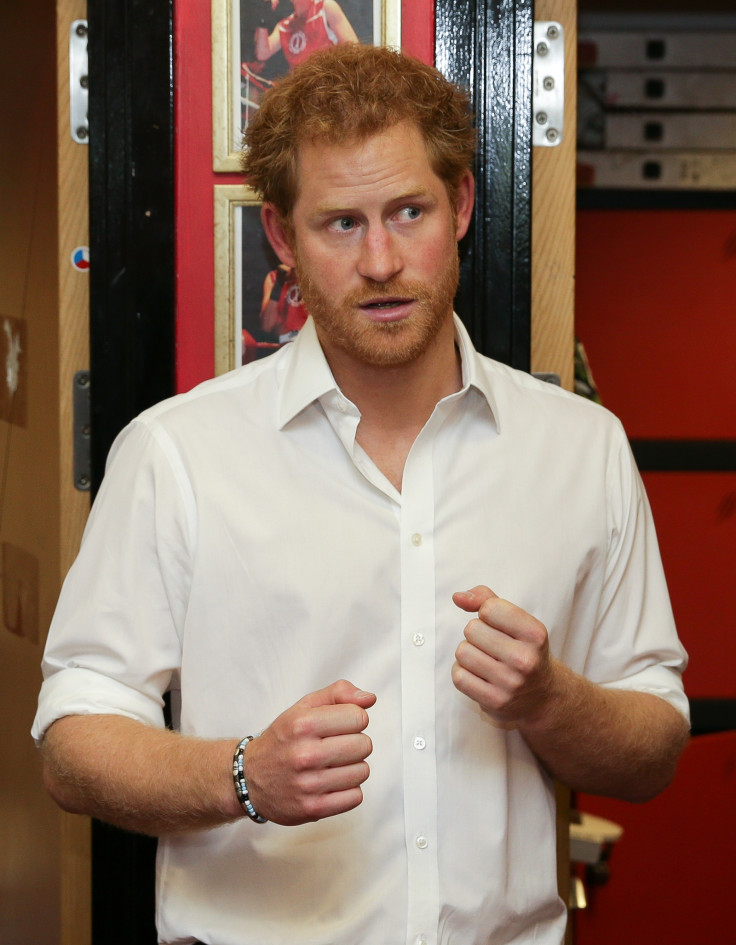 "Through his previous work with young people, many of whom have struggled with mainstream education, Prince Harry has seen the impact sport can have in tackling the root causes of some of the most pressing problems among young people in local communities, including crime, anti-social behaviour and community cohesion."
Harry is a big advocate of competitive sports and mentoring schemes, including Coach Core that his brother Prince William and sister-in-law the Duchess of Cambridge have also supported.
© Copyright IBTimes 2023. All rights reserved.