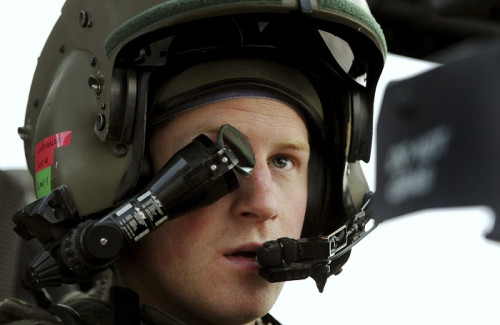 Prince Harry has quit his job flying military attack helicopters to take up a desk job.
The 29-year-old fourth in line to the throne, who twice served in Afghanistan and co-piloted Apache gunships on the front line, is to begin a new role as a grade three staff officer helping to coordinate "significant projects and commemorative events" for the army in London.
Harry remains a commissioned officer in the Household Cavalry and will take up the staff officer role in HQ London District, which is based at Horse Guards.
Ceremonial events Harry will help organise include state visits, the Trooping of the Colour and the first world war centenary commemorations.
Colonel Richard Kemp, a former commander of British forces in Afghanistan, told the Sun: "It may sound surprising but every officer has to swap operational roles for desk jobs. Harry will miss the camaraderie and fun of army life. He may now adopt a more sober role, although I doubt it.
"All the troops admire and respect him and it is possible he could return to the frontline if promoted to major."
Harry will also reportedly lead a bid to bring an Olympics-style contest for wounded service personnel known as the Warrior Games to the UK.
A royal spokesman said: "He was hugely impressed by the Warrior Games when he visited the US in May."
A friend to the prince said his decision to leave the pilot role was inspired by a desire to spend more time with girlfriend Cressida Bonas.
"The distance made it difficult for Harry to see Cressie as often as he would have liked. Moving to London full time shows he is serious and Cressie in thrilled."
Critics have pointed out that the £2.5m spent training Harry to fly helicopters have been wasted now that he has quit the Army Air Corps.