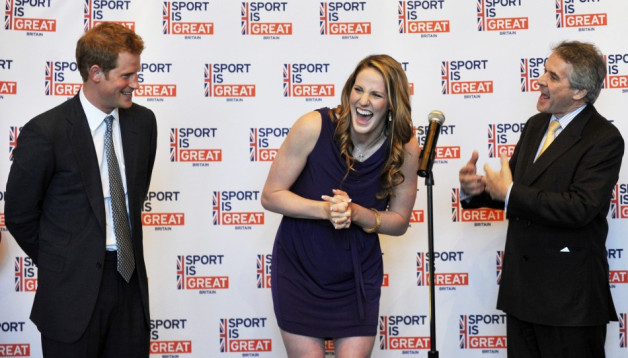 Prince Harry will attend the opening ceremony of the Paralympic games for disabled servicemen and women today on the third day of his US tour.
The Warrior Games in Colorado will welcome 300 competitors, and after the opening Harry will have brunch with British athletes and watch a volleyball game.
At a reception for the event on Friday 10 May, he serenaded 18-year-old US Olympic swimming champion Missy Franklin with a rendition of Happy Birthday.
The prince also met Britons attending the event last year, when he was in the US to collect a humanitarian leadership award for his work on behalf of injured servicemen.
The 35-strong UK squad is funded by military charity Help for Heroes and will take part in archery, cycling, shooting, swimming, track and field, wheelchair basketball and sitting volleyball competitions.
Former press secretary to the Queen, Dickie Arbiter, told the BBC: "America loves a hero and Harry is a hero in their eyes. He's got all the charisma that's required to do the job.
"He's good with servicemen, he is an active serviceman so there is an affinity between him and the people he's talking to.
"I don't think yet we've seen the full potential of Harry. I think that's still to come but my goodness, he's doing a pretty good job at the moment."
Martin Colclough, the charity's head of physical recovery, said: "We are delighted to once again fund a UK team in such a high-profile US event and are looking forward to watching our athletes build on the tremendous successes from last year.
"Having supported athletes at both a grassroots and Paralympic level, we know how important physical activity is for encouraging confidence and independence after a life-changing injury or illness."
Prince Harry has completed two tours in Afghanistan as an Apache helicopter co-pilot and gunner.
He began his US visit attending a White House function honouring American millitary mothers with Michelle Obama.
He has also visited an exhibition for a landmines charity patronised by his mother, Princess Diana and laid a wreath at the tomb of the Unknown Soldier at Arlington National Ceremony in Virginia.