Prince Harry wants to 'play victim' in interview for memoir: expert
The Duke of Sussex will release his book called "Spare" on Jan. 10.
A body language expert claimed Prince Harry wants to appear "superior" and play the "victim" in a series of interviews he did ahead of the release of his memoir on Jan. 10.
The Duke of Sussex sat down for an interview on the CBS show "60 Minutes" with Anderson Cooper, and on ITV with Tom Bradby to promote his book titled "Spare." Watching previews for each had body language expert Judi James saying that the royal displayed contrasting behaviour.
She told The Sun that he made himself look like a "guru," a "bean-spilling victim," and an "authoritative prince." She pointed out the "three sets of body language cues and techniques" the 38-year-old royal displayed.
James said the Duke of Sussex looked like "the authoritative prince" in a scene that showed him walking alongside Cooper. She explained, "Harry is seen walking with a solid chest splay signalling confidence, using the political leadership trick of one-handed gesticulation as he talks. This makes him look superior and in charge, while the host listens."
A second clip shows the royal gesturing with his hands while seated, and James described this as Prince Harry being "The Guru." He is "using his favourite, pompous over-kill gesticulations to look as though his words are terribly important. He mimes a huge circle in the air to ensure his message is listened to and understood."
Lastly, the Duke of Sussex was allegedly the "bean-spilling victim" in his interview with Bradby, where viewers saw him "with a lower-status 'victim' look." He was "wide-eyed and with his brows raised as he holds alternate hands out in the air, palm-up, to suggest openness and explanation."
"He shrugs and uses a wry smile to both persuade and to hint at incredulity, possibly about how he has been treated," James said. In this scene, Prince Harry said, "It didn't have to be this way" as he spoke about wanting "a family not an institution" and how he and Meghan Markle have been portrayed as the villain by the media. Prince Harry's interviews with Cooper and Bradby will both air on Sunday, Jan. 8. on CBS and ITV, respectively.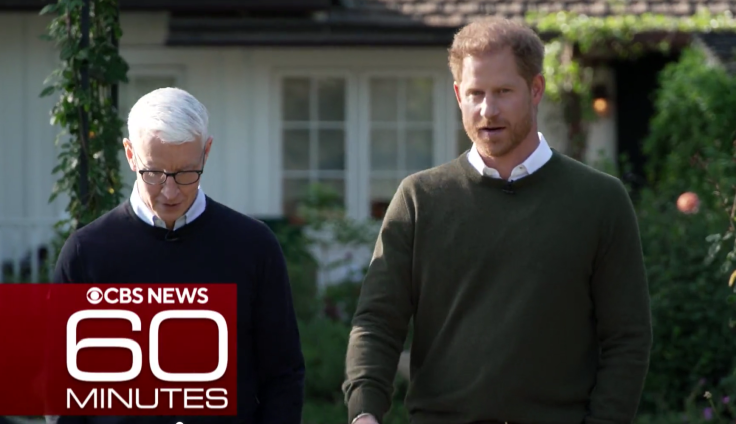 © Copyright IBTimes 2023. All rights reserved.