Kensington Palace announced Prince Harry and Meghan Markle's engagement today (27 November) following the couple's nearly 18-month relationship.
Kensington Palace announced today (27 November): "The Prince of Wales has announced the engagement of Prince Harry and Ms. Meghan Markle."
The couple became betrothed just seven days after the Queen and Prince Philip's Platinum Anniversary on 20 November.
Wedding planning website and app Bridebook has now revealed its expert predictions for a royal wedding, which will take place in spring 2018.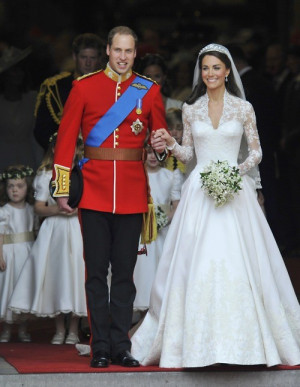 The British company believes that Suits actress Markle's trendy yet super stylish image will seep into her wedding gown and ring choices, which are some of the only aspects she will have control over on the big day.
The 36-year-old LA-born star may choose a large "marquise or pear-shaped diamond", which will be timeless and elegant with a "distinctive, slightly modern twist". To differentiate herself from the Duchess of Cambridge, Markle will perhaps pick out "simple but beautiful bright white silk" instead of traditional lace for her wedding dress.
But the brains behind Bridebook have calculated where the royal wedding may be located, citing that the couple will opt for a different venue to that of Kate and William's 2011 nuptials to celebrate their very modern royal romance.
Bridebook told IBTimes UK: "The wedding ceremony of the Queen and the Duke of Edinburgh took place at Westminster Abbey, as did the ceremony for Kate Middleton and Prince William.
"Alternatives would be the much larger St. Paul's Cathedral – where Charles and Diana wed – or the much smaller St. George's Chapel in Windsor Castle, where Prince Charles and Camilla Parker Bowles's wedding was dedicated following a civil ceremony."
Harry will no doubt want to mix things up with his wedding as arguably the most innovative and forward-thinking member of the Royal family.
Bridebook added: "We predict that the couple will choose to have a small private civil ceremony at Kensington Palace followed by a dedicated church service for the public to see, then a private party for friends and family back at Kensington Palace."
Reeling off some wedding facts, they continued: "Last year 29% of weddings took place at a place of worship – which is down from 33% in the previous year – with 59% of ceremonies taking place at the reception venue. This is up from 53% in the previous year and 6% at a register office."
Royal expert Phil Dampier clarifies why Harry and Markle will choose a slightly different set-up, explaining: "I don't think Harry wants a wedding in Westminster Abbey or St Paul's as it might be seen as a bit over the top for someone sixth-in-line to the throne.
"Also, he likes to do things differently. However, it would not go down well with the public, who love a wedding and won't be able to see the ceremony. I think it is more likely to be St George's Chapel at Windsor."
Charles married second wife Camilla in a civil ceremony at Windsor Guildhall. That was followed by a televised religious blessing by the Archbishop of Canterbury, Rowan Williams, at St George's Chapel. Whether Harry will follow in the footsteps of his father remains to be seen.