Tensions may be high at Princess Eugenie's wedding to long-term boyfriend Jack Brooksbank this October, with some speculating Prince Philip's longtime feud with Sarah, Duchess of York may be reignited.
The couple's wedding is to take place at Prince Harry and Meghan Markle's chosen venue, St George's Chapel, Windsor Castle, with Eugenie's parents the Duke and Duchess of York being "delighted" by the happy news.
But one person who might not be so ecstatic on his grandchild's big day is the Duke of Edinburgh, 96. He isn't the biggest fan of the 27-year-old's mother, famously known as "Fergie."
The feuding duo have eschewed each other's presence for several years following a series of scandals, with outspoken Philip thought to be so ruffled by Ferguson's toe-sucking episode that he will struggle to get through the nuptials.
A source said: "The royal wedding will be difficult for the Duke of Edinburgh because he hates Fergie so much he can't stand to be in the same place as her," according to the Express.
Philip has never forgiven Ferguson for the string of shameful incidents she has thrust upon the royals since her affair with Texan billionaire John Bryan, who was pictured sucking her toes by a pool in the South of France in 1992.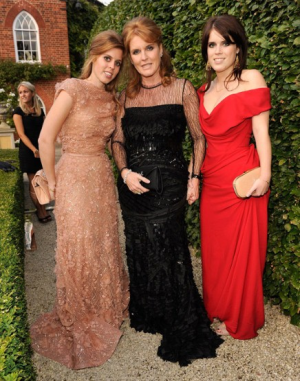 The Duke of Edinburgh was said to have been particularly livid at the scandal, which lead to her being shunned by the Royal family. She was residing at Balmoral when the images were published, with the Windsors discovering them at the breakfast table.
Awkwardness between the pair reached new heights in 2015 when the duke spotted his former daughter-in-law at Ascot. He was seen looking aghast at the sight of Fergie standing beside her ex-husband Andrew and curtseying to the Queen after emerging from a restaurant in the Royal Enclosure.
An onlooker said at the time: "He was twisting his neck to take another look. He didn't look impressed."
Philip also allegedly said: "What is that ghastly woman doing here?"
Hopefully Philip and Ferguson can put their differences aside for Eugenie's special day, however, as she prepares to wed her long-term love after seven years of dating.
Former waiter Brooksbank got down on one knee earlier this month in Nicaragua, in what Eugenie described as "the perfect moment".
The couple are believed to have designed the ring together. It may be a nod to Eugenie's mother, Sarah, Duchess of York, since it is strikingly similar in appearance to her ring. While Eugenie's stone is a light pink, her mother's was famously ruby red and surrounded by diamonds when she got engaged to Prince Andrew in 1986.