The Duke of Edinburgh announced he was retiring from royal duties after 70 years of service last week, jogging the public's memory of his famous one-liners and anecdotes.
After Prince Philip, 95, joined the Queen, 91, at a service of thanksgiving marking the centenary of Pangbourne College in Berkshire yesterday (9 May), an amusing story was revealed about the royal by a fellow sailor.
Commander Keith Evans, 97, who was a former pupil of the school and there for the celebrations yesterday, met the duke in 1947 – the same year in which he married the then Princess Elizabeth. At the time Philip was a lieutenant in the Royal Navy and hastily climbing up the ranks.
But work and royal duties weren't the only thing on Philip's mind, according to his old friend.
When asked to recollect any memories of Philip after they met again yesterday, Evans replied: "He was a bit randy – but you had better not put that down."
He then decided to let the cat out of the bag and add: "Not 'a bit'... Very," the Express reports.
Philip arguably made his last zinger last week when he joked: "Well, I can't stand up much longer," to a guest at an Order of Merit reception at St James's Palace.
Evans – who served on HMS Hood – also chimed in on the joke when he said: "Like Prince Philip, I'm standing down from most things in August."
Adding: "I think it is rather good news. He will do what he wants rather than what she tells him to do."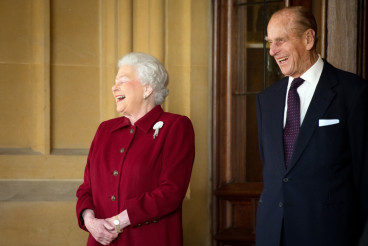 The news of the Duke's retirement was announced by Buckingham Palace after a much-publicised meeting of Royal Household staff.
The palace said in a statement: "Prince Philip will attend previously scheduled engagements between now and August, both individually and accompanying The Queen.
"Thereafter, The Duke will not be accepting new invitations for visits and engagements, although he may still choose to attend certain public events from time to time."
Even at the age of 95, Philip – who is patron of 780 organisations – has put his younger royal counterparts to shame as far as work ethic goes, undertaking 219 official engagements in the UK last year alone. This is more than the Duke and Duchess of Cambridge and Prince Harry put together.