Prince William has started a new job with a company which runs air ambulance operations in the UK.
The second in line to the throne will fly rescue missions this summer, operating the East Anglian Air Ambulance for Bond Air Services.
Kensington Palace confirmed the news in a statement saying: "The Duke of Cambridge has today started work as an employee of Bond Air Services. Over the coming months he will undertake job-specific training before he begins piloting missions for East Anglian Air Ambulance during the summer. The mandatory training will involve simulator, aircraft and in-flight skills training."
A former RAF search and rescue helicopter pilot, William has begun work just a few weeks ahead of the birth of his second child and is likely to take paternity leave.
A spokesman for Bond Air Services said: "Like other pilots, he will be entitled to paternity leave. He has come to do a job as a professional, a pilot, and we're very happy he's going to be a pilot."
The Duke is likely to operate out of East Anglian Air Ambulance's base at Cambridge Airport and will take the controls of a new EC145 T2 helicopter which will go into service in April. The helicopter is said to provide greater speed, endurance and capacity.
William will initially be attending lessons in a ground school but will also have specific training on the aircraft he will eventually fly. Training will last from four to 12 weeks.
William will be the pilot and work with a team comprising a co-pilot, a specially trained critical care paramedic and a senior medic, who will respond to emergencies ranging from road accidents to heart attacks.
William will continue to carry out his royal duties and engagements both in Britain and overseas as well as carrying out his professional duties in his new job.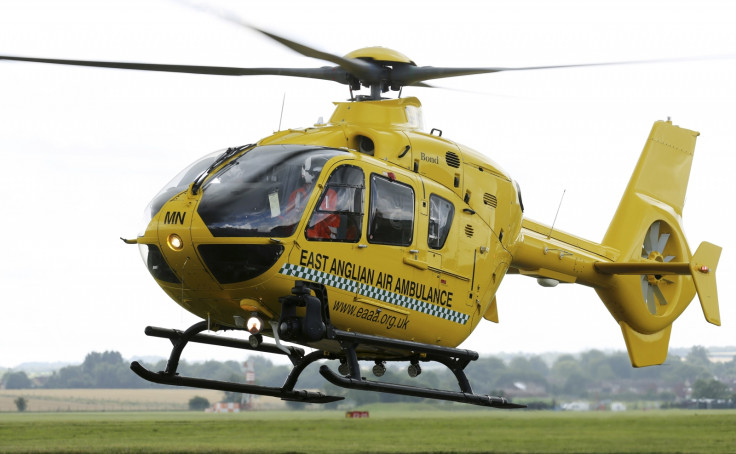 His new role was announced shortly after he arrived in Tokyo for a seven-day tour of Japan and China in February.
A spokesman for Kensington Palace said: 'Shortly before departing for Japan and China, The Duke completed and passed his Air Transport Pilot's Licence exams, which he required before starting work as an Air Ambulance Pilot.'
The Prince has completed seven and a half years in full-time military service after beginning his career with the Household Cavalry (Blues and Royals) and later served with The Royal Air Force, with his final posting as an RAF Search and Rescue Pilot.
He left operational service in the Armed Forces in September 2013.
Prince William and his wife Kate are expecting their second child in mid-April.