More than 180,000 Iraqi civilians have fled Isis-held west Mosul as US-backed government forces build their assault on the old city, its surroundings and the iconic grand mosque where the leader of the Islamic State announced the creation of the so-called caliphate in 2016.
The Iraqi government has said of the refugees leaving the city, which has been under a months-long assault to dislodge the militant group, 111,000 have sought shelter in 17 nearby camps. The rest have stayed with nearby relatives.
On refugee told AFP he travelled a 60 km round trip to get his sister and her family and then return to his village. "I hadn't heard her voice for six months. I had no idea what had become of them," he told the news agency.
Iraqi forces began their offensive to recapture Mosul, the second largest city in Iraq and the largest urban centre held in Isis-held territory.
The Iraqi forces, led by a vanguard of elite anti-terror police completed their offensive to retake the eastern areas of the city in January, meeting heavy resistance from the Islamic State which defended their positions, counter attacking with suicide car bombs, IEDs and deploying snipers through a vast network of underground tunnels.
Iraqi forces began the operation to retake west Mosul from the jihadists on February 19. The fighting has meant that those living on either side of the Tigris, which roughly divides the city in half, have been completely cut off after US and Iraqi air strikes destroyed five bridges joining the two halves of the city.
The capture of Mosul's grand mosque offers a highly symbolic victory to Iraqi forces. Baghdadi became the most high-profile radical Islamist leader in the world when he delivered a sermon in the city of Mosul's main mosque and declared himself the caliph of a new Islamic Caliphate. The message to the faithful in Iraq's second largest city marked the apogee of Baghdadi's fame.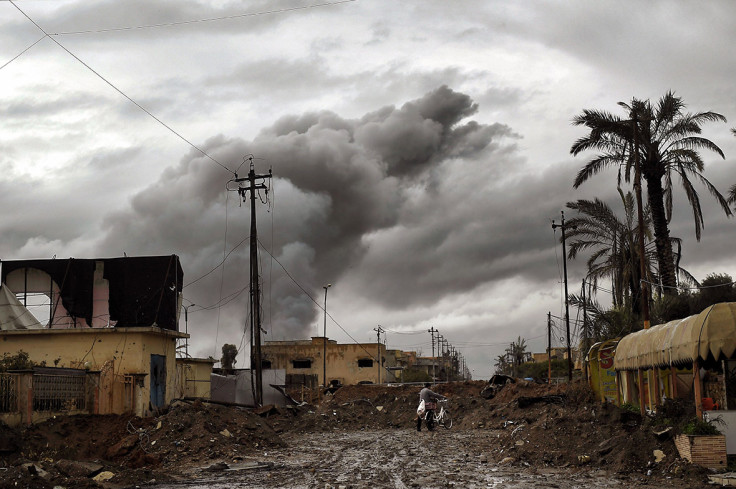 However, since the territory held by the militant group has diminished Baghdadi has been forced to keep a lower profile. In December 2016, the Pentagon stated it believed the Isis leader was alive and still giving orders through his commanders. In mid-December, the US announced an increase in reward for capturing or killing Baghdadi to $25m (£20.3m).
The figurehead of the Sunni militant group is now in hiding in the Iraqi desert, essentially abandoning the city. While he is picked up at times by monitors he has proven to be an elusive target. He rarely uses means of communication that can be listened in on and he is constantly on the move, changing his location multiple times over a 24-hour cycle.
It is believed Baghdadi has now taken to hiding with sympathetic civilians in villages known to Isis, away from urban centres which have been targeted by US and Iraqi air strikes.