Isis: Timeline of the Islamic State
After seizing large swathes of Iraq in an unexpected and lightning advance, on 29 June 2014, an Islamist group going by the name Islamic State of Iraq and the Levant, or Isis, declares a caliphate in the territories it controls.
It drops any geographical reference from its name, shortening it to Islamic State, and proclaims its leader, Abu Bakr al-Baghdadi, the Caliph of all Muslims.
Over the 12 months that follow, IS engages in extreme levels of violence, taking over more territories and forcing its brutal rule of beheadings, slavery and heritage destruction, upon hundreds of thousands of people.
Advertising its violence online, the group becomes a brand name for terrorism all over the world, turning into a magnet for local and foreign radicals willing to join jihad.
IBTimes UK tracks the main events since IS was formed by al-Qaeda with the name of Islamic State of Iraq (ISI) in 2006, up to last week's attacks in Tunisia and Kuwait.
Islamic State timeline
---
18 April, 2010: Abu Bakr al-Baghdadi takes the reins of ISI, after the group's two top leaders, Abu Omar al-Baghdadi and Abu Ayyub al-Masri, are killed in a joint US-Iraqi airstrike in Tikrit.
March 2011 to March 2013: Pro-Democracy unrest in Syria evolves into a revolution that erupts into civil war. Islamist groups including al-Qaeda's the Nusra Front join the fray. Fighters loyal to Baghdadi cross into Syria exploiting the power vacuum to seize territory. At the same time ISI starts carrying out a long spate of bombings in Iraq.
---
March, 2013: Fighters with ISI and the Nusra Front enter the north-eastern city of Raqqa.
April, 2013: Baghdadi declares ISI has absorbed the Nusra Front to form a larger entity called Islamic State of Iraq and the Levant, operating across Iraq and Syria. The Nusra Front denies it has accepted the merger, sparking a leadership rift within al-Qaeda.
July, 2013: Jesuit priest Paolo Dall'Oglio disappears in Raqqa after voluntarily approaching IS at its headquarters to negotiate the release of some hostages and broker a truce with Kurdish rebels. He has not been seen or heard of since. A little more than a month later, jihadists assert their rule over the city storming two Christian churches and replacing the crosses topping the buildings with their banner.
Autumn, 2013: Images of IS brutal rule begin to surface online.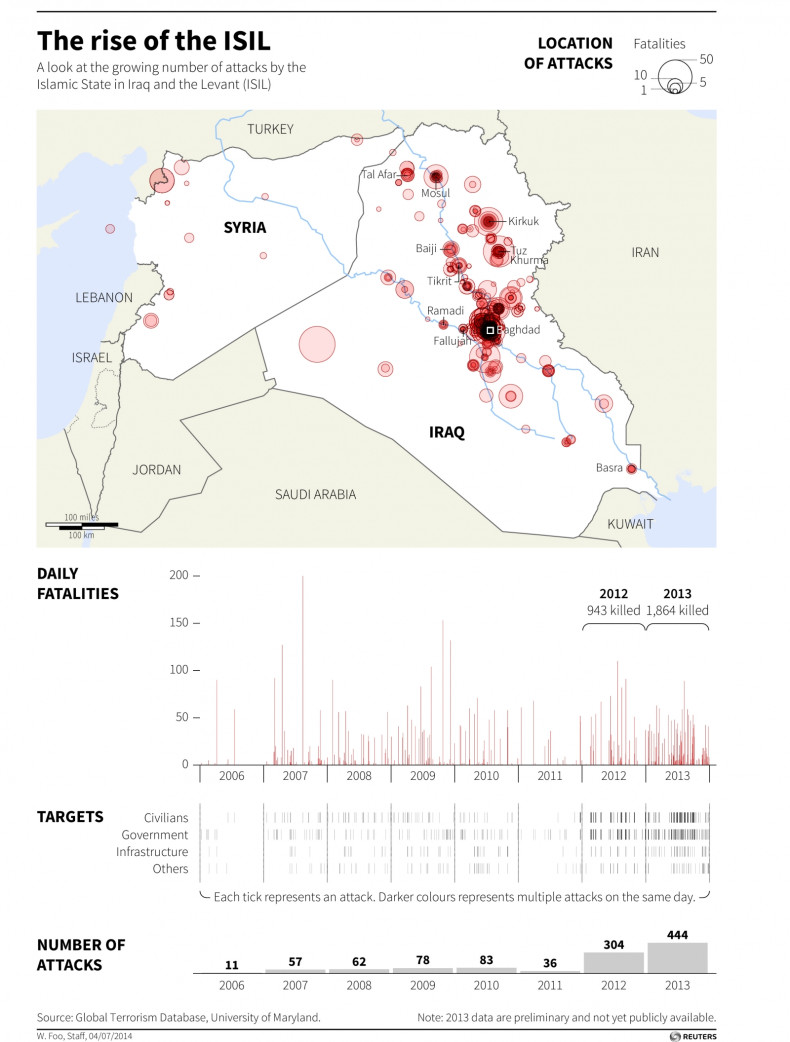 ---
January, 2014: The group overruns the Iraqi city of Fallujah, also seizing parts of Anbar's regional capital, Ramadi. More than 13,000 families flee the area. Reports of British jihadists being recruited start to emerge. In Syria, IS commences fighting against rival rebel groups over territory.
---
10 June, 2014: In an overnight assault, hundreds of Isis fighters capture Mosul, Iraq second largest city, overrunning key local government, police and military headquarters, also seizing considerable amounts of US-supplied military hardware.
11 June, 2014: Isis quickly advances south, conquering most of Nineveh province and Saddam Hussein's hometown of Tikrit. It reportedly becomes the richest terror group ever after looting 500 billion Iraqi dinars - the equivalent of $429m (£256m) – from Mosul's central bank.
12 June, 2014: Reports that Baathist military officers from Saddam Hussein's regime era have actively supported the Sunni insurgency emerge. Isis imposes its strict set of Sharia laws over the freshly conquered lands.
16-18 June 16, 2014: Reports of mass kidnappings and executions begin to surface from Iraq and Syria.
29 June, 2014: The group declares the establishment of a "caliphate" and rename itself the Islamic State.
5 July, 2014: IS releases a video of Baghdadi delivering a sermon at Al-Nouri Mosque in Mosul, calling on Muslims to obey him and join the caliphate. The rift with al-Qaeda deepens.
---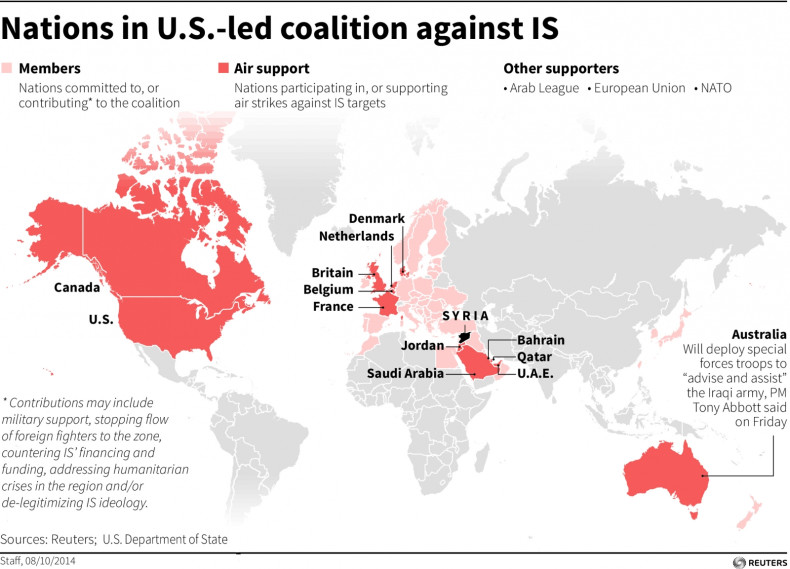 5 August, 2014: IS attacks the Iraqi district of Sinjar, home to the Yazidi Kurds, an ancient religious minority that radical Sunnis consider heretical. Thousands flee, hundreds are killed or kidnapped. Women are enslaved.
8 August, 2014: The US launches air strikes against IS.
19 August, 2014: The jihadi group releases footage showing a masked militant with a London accent beheading American journalist James Foley in retaliation for US air strikes. The clip is entitled "Message to America".
---
2 September, 2014: Is releases video showing beheading of another US hostage, Steven Sotloff.
5 September, 2014: Washington announces the formation of a ten-nation anti-IS coalition, including Britain, France and Canada.
11 September, 2014: The US announces numerous Arab nations have agreed to support the coalition.
13 September, 2014: British aid worker David Haines is also beheaded before a camera.
13 September, 2014: Isis launches an offensive on the northern Syrian city district of Kobane, home to a city of the same name, meeting a strenuous resistance from its predominantly Kurdish population. A four-month siege ensues.
18 September, 2014: Captive British reporter John Cantlie appears in first of a series of videos released by IS.
24 September, 2014: IS-linked militants in Algeria kidnap and behead French tourist Hervé Gourdel, in the first of a series of killings inspired by the group around the world.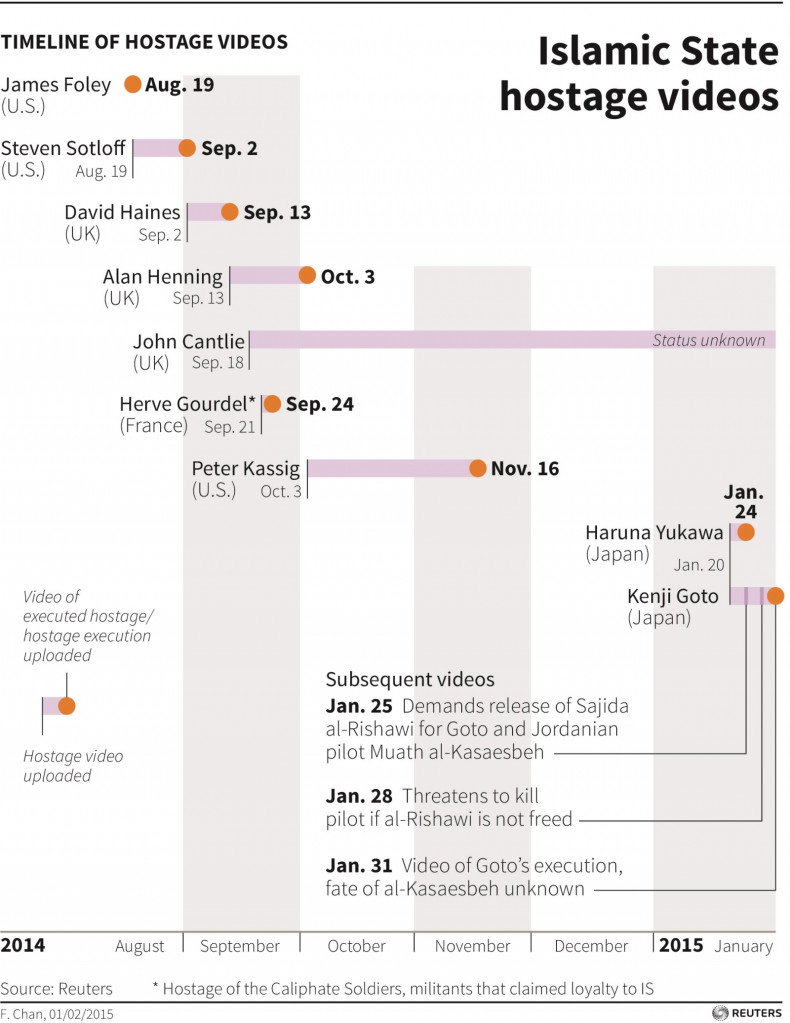 ---
3 October, 2014: British aid convoy volunteer Alan Henning is beheaded by an IS militant.
13 October, 2014: IS English-language propaganda magazine, Dabiq, calls on jihadi sympathisers to attack westerners "wherever they can be found."
20 October, 2014: a Canadian convert and IS sympathiser runs down two soldiers, killing one, with his car near Montreal.
22 October, 2014: An Islamist gunmen kills a soldier guarding the National War Memorial in Ottawa, before storming Canada's parliament building. He is subsequently shot dead by security forces.
---
9 November, 2014: Iraqi officials claim Baghdadi is injured in a coalition air strike.
16 November, 2014: IS releases a video showing a mass beheading of Syrian soldiers and announcing American aid worker Peter Kassig has been executed.
---
15 December, 2014: Man Haron Monis, a self-professed Muslim cleric with a criminal record for sexual assault, takes 17 hostages at a Sydney café claiming to act on IS's behalf. Two people and the attacker die after police storm the premises.
24 December, 2014: IS militants shoot down a Jordanian warplane near Raqqa, Syria, capturing the pilot, Lieutenant Muath Safi Al-Kaseasbeh.
---
7-11 January, 2015: Islamist militants carry out separate deadly attacks in Paris, France. A video emerges showing one of them, Amedy Coulibaly, declaring his allegiance to IS.
26 January, 2015: Kurdish fighters retake full control of Kobane, successfully pushing back IS militants.
20 January-3 February 3, 2015: IS demands $200m from Japan (£127m, €178m) in ransom for hostages Kenji Goto and Haruna Yukawa. Negotiations for their release also involve Jordanian pilot al-Kaseasbeh and Iraqi female militant Sajida al-Rishawi. After a number of conflicting statements, IS beheads the two Japanese hostages and burns al-Kaseasbeh alive. Al-Rishawi is executed by Jordanian authorities a few days later.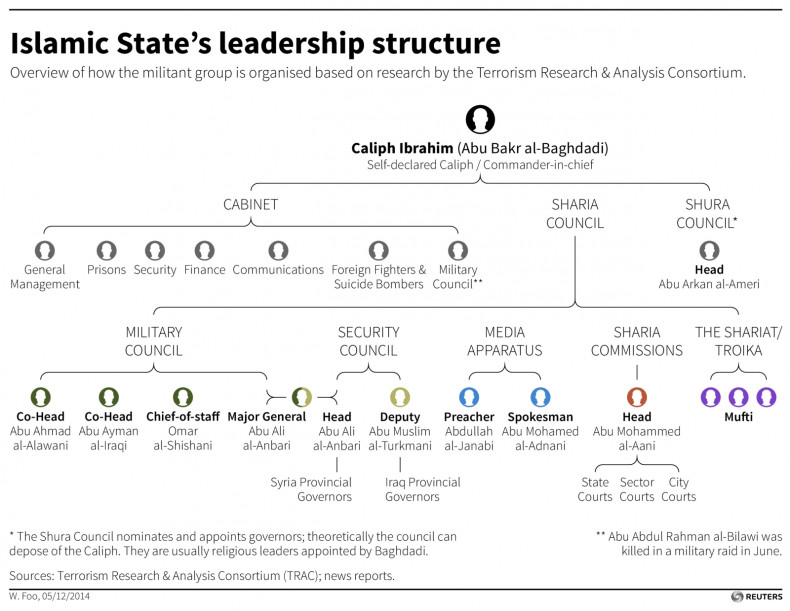 ---
6 February, 2015: IS says American hostage Kayla Mueller has died in a Jordanian air strike.
15 February, 2015: An IS sympathiser goes on a gun rampage in Copenhagen, Denmark, killing two people at freedom of speech event and a synagogue.
15 February, 2015: IS Libyan branch releases footage showing the beheading 21 Egyptian Christians on a beach.
26 February, 2015: Media reveal IS masked executioner known as Jihadi John is a Kuwati-born Londoner named Mohammed Emwazi.
26 February, 2015: IS publishes a video showing militants destroying ancient artefacts in a Mosul museum.
---
12 March, 2015: Nigerian Islamist group Boko Haram, pledges allegiance to IS.
18 March, 2015: IS claims responsibility for a deadly attack at the Bardo museum in Tunis, in which 22 people, including British, French and Italian tourists are killed.
20 March, 2015: IS claims responsibility for coordinated suicide bombings on Shiite mosques in Yemen that kill more than 130 people.
---
31 March, 2015: Iraqi troops backed by Shiite militias and US air strikes reconquer the strategic city of Tikrit.
19 April, 2015: IS Libyan affiliates release a clip showing militants shooting and beheading approximately 30 Ethiopian Christians.
---
13 May, 2015: The Iraqi defence ministry announces IS second-in-command, Abu Alaa al-Afri, is killed in an air strike.
17 May, 2015: Outnumbered IS fighters take over Ramadi exploiting the meltdown of Iraqi troops, heavily criticised by the US.
20 May, 2015: IS captures the historic Syrian city of Palmyra in central Syria.
---
16-23 June 16, 2015: Kurdish fighters advance deeper into IS territory capturing the Syrian town of Tal Abyad and an army base south-west of Ain Issa.
23 June, 2015: IS releases one of its most gruesome videos to date, showing alleged spies executed by drowning in a cage, blown up in a car with a rocket-propelled grenade (RPG) and beheaded with explosives.
26 June, 2015: Isis claims responsibility for the killing of 38 people in a shooting at a Tunisian beach resort and for a separate suicide bombing that kills at least 25 Shiite worshipers in a Kuwait mosque.