Pro-refugee demonstrators continued their protest against the offshore detention of asylum seekers for a second day at the Australian parliament on Thursday (1 December). Refugees that arrive on Australia's shores by boat are sent to detention camps in Papua New Guinea's Nauru and Manus Island, where activists have alleged that they are abused.
Protesters from the Whistleblowers Activists and Citizens Alliance (Waca) reportedly breached the parliament compound in Canberra and dyed the pond near the entrance red, to symbolise blood. Others held placards that read "close the bloody camps now".
Similar protests were held on 30 November, when demonstrators chanted slogans from the visitor's gallery in the parliament, which was subsequently suspended for around 40 minutes.
Protesters are demanding an end to the detention of refugees in remote centres and have called for the suspension of the controversial policy of turning refugee boats away. They demonstrated for around two hours and accused the Coalition and Labor parties of being "world leaders in cruelty".
"We are here today because you have become world leaders in cruelty," the protesters said and alleged that the detention policy was "separating families" and "killing innocent people".
Under Australia's current rules, no person who arrives in the country by boat seeking asylum can get settled in Australia. Instead, anyone who arrives by boat is taken by the government of Australia to offshore "refugee processing centres" on Manus Island in Papua New Guinea or the remote Pacific island of Nauru.
Even when refugees are determined to be genuine, they have to undergo a process that can take years and are still barred from resettling in the country.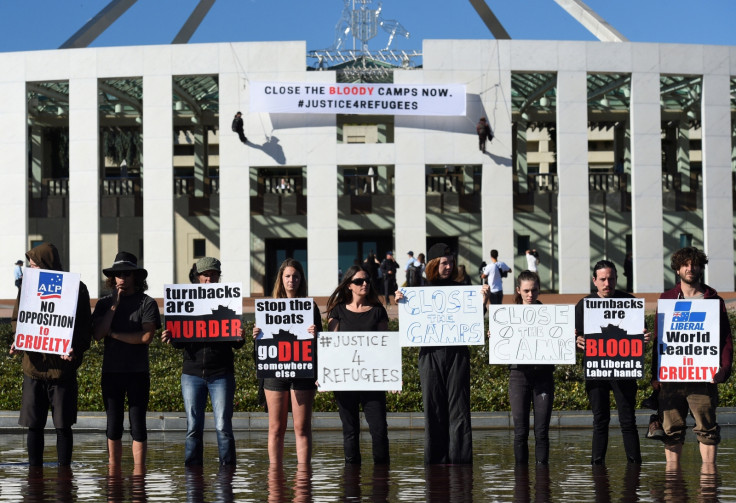 Waca spokesman Phil Evans said that the demonstrators "continue the call for urgent action on refugees", including closing offshore detention camps and bringing asylum seekers located there to Australia.
Greens senator Lee Rhiannon also attended the protests and said, "The problem lies with the human rights abuses, the mental health problems, the anguish. We're breaking our international obligations... that's where the laws are being broken. These people are courageous; they are showing what the parliament should do."
On the other hand, criticising the protests, Prime Minister Malcolm Turnbull said, "And it tells you a lot about the Greens party in particular that they praised them. Imagine that, they praise people who interfere with democracy who wanted to shut down the parliament".
The protests follow the agreement between Australia and the US, wherein the latter would accept 1,800 refugees currently living in camps at the Australia-funded offshore processing centres.