A sex drive-in for prostitutes and their clients in what is being hailed as a revolution for the world's oldest profession is to be launched in Switzerland.
The modern twist on transactions has seen nine 'sex boxes' erected in Zurich where customers and sex workers can conduct business - out of the glare of the city centre.
It may not be romantic but the majority of citizens gave the scheme the green light in a referendum last year.
Under the measure, clients drive their vehicle into one of nine parking bays enclosed on three sides by a high wooden fence. A red umbrella sign will identify the zone as a state-approved sex shop to punters.
Condoms are provided and exchanges take place in full view of an array of signs spelling out the rules of the sex drive-in. Only clients in cars are allowed to use to the facilities.
Prostitution is not illegal in Switzerland.
According to supporters, the sex drive-in will allow prostitutes to work in a safer environment. In the past it was common for sex workers to accompany clients into the surrounding forest - placing them at risk.
Public official Michael Herzig said the initiative places more control in the hands of the prostitutes.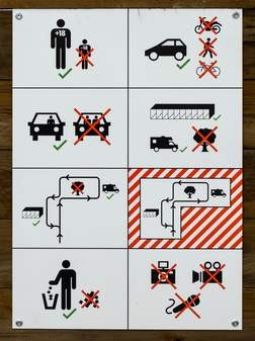 He said: "Prostitution is a business basically.
"We cannot prohibit it so we want to control it in favour of the sex workers because if we do not control it, organised crime is taking over and the pimps are taking over."
The scheme was inspired by an identical measure in the German city of Cologne, which saw dramatic results.
Records indicate there has been no violence in Cologne's so-called 'special zone' and the income of sex workers has increased.
Not everybody approves of the novel approach to managing prostitution, however.
Politician Sven Oliver Dogwiler of the Awiss People's Party called it a waste of public money.
"It will not work either because the clients will not come or because the site will not be used by prostitutes. It puts them in a cleaner space but one that is subsidised by taxes."