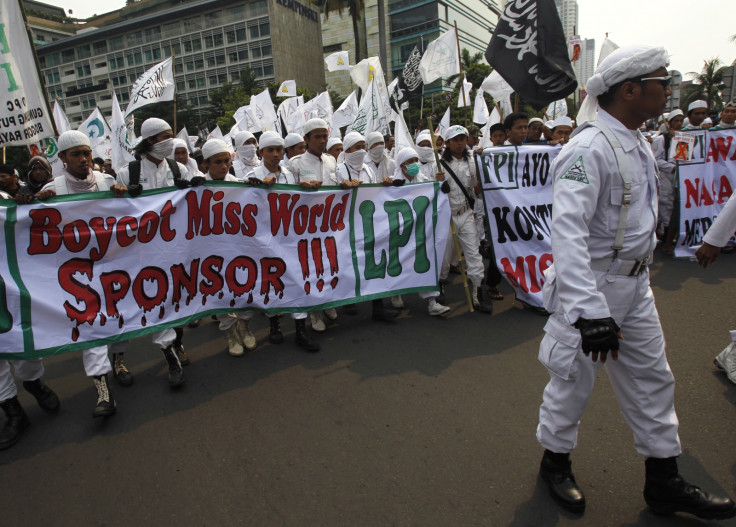 Feminists took part in a demonstration against the Miss World beauty contest, calling it sexist and degrading to women.
Calling for supporters on Twitter under the hashtag #missworldoldworldmisogyny, one of the groups backing the protest, the London Feminist Network said: "The sexist idea that women should be judged on the basis of their appearance influences the way that all of us feel about ourselves as women and the way that men view and treat women.
"Beauty contests reinforce the idea that women are only of value according to their attractiveness and they reduce women to objects to be judged and compared on the basis of our appearance."
Join us on Sunday 14 Dec for our Miss World protest #missworldoldworldmisogyny @LondonYFeminist @FemLonCon Pls RT! http://t.co/DU0IXRbmOs

— LDN Feminist Network (@LDNfeminist) December 12, 2014
If people are going to protest against Miss World, why not America's Next Top Model? or The Face? OR EVERY OTHER MODELLING THING EVER? — Hannah (@hana___xo) December 14, 2014
"This erodes our human rights to be treated as equals and is therefore an issue for all women, not just those involved in the contest. As women we have fought long and hard for the right to be treated and respected as thinking individuals, not as objects who exist in order to 'look good'.
"We want so much more for all women and that is why we are protesting the Miss World beauty contest."
When Miss World 2013 was held in Indonesia, there were protests across several cities. In Jakarta, the capital, about 1,000 members of the hardline Islamic group Hizbut Tahrir Indonesia rallied outside the building housing the local organiser of the contest.
Chanting "Allah akbar" (God is great), the protesters, mostly women, waved banners reading "Miss World Culture Liberalisation Campaign" and "Reject Miss World".
The last time Miss World was held in London was in 2011, when there were calls to call off the beauty pageant, with a spokeswoman for the London Feminist Network saying the contest had "no place in London in 2011".
Miss World protest in 2011