Thousands of people have taken to the streets in the Philippines' capital city of Manila in protest over plans to move the body of their disgraced former president to the National Heroes' Cemetery. Newly elected President Rodrigo Duterte confirmed last week that his body would be transferred from his hometown of Batac.
President Ferdinand Marcos ruled as a dictator during his presidency and has been accused of severe human rights abuses and corruption. He brutally repressed dissent under imposed martial law until he was overthrown in 1986 during snap elections triggered by public outrage. At least 1,500 protesters gathered on 14 August to say that giving him a "hero's" burial would be a "grave injustice" to his victims.
Senator Risa Hontiveros was one of four members of Parliament to attend the rally in Manila against President Duterte's decision. She said Marcos was an "unrepentant enemy of our heroes" and has put forward a senate resolution opposing the move.
"We would be the laughing stock of the entire planet," said Hontiveros.
Marcos' family kept his preserved body on display after he died in exile in 1989 and have demanded that he be buried with full honours in the Heroes' Cemetery. During Duterte's presidential campaign in May, he said that he would support the Marcos family, noting that Marcos "was a Filipino soldier" and that he had voted for the former dictator himself.
If the decision goes ahead, Marcos' burial could take place in the capital in September. There are roughly 40,000 people buried at the Heroes' Cemetery with most of them being former military officials. However, the BBC has noted that military regulations exclude those who had been dishonourably discharged.
Many who were tortured and imprisoned during Marcos' reign joined the protests on 14 August, as well as relatives of victims of extrajudicial killings. According to an Amnesty International report from 1975, 70% of prisoners during Marcos' rule said they had been tortured.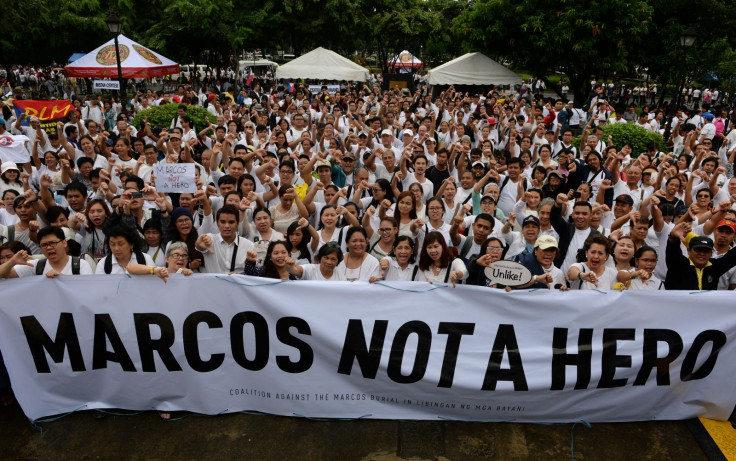 The report stated at the time: "[There is an] unavoidable conclusion that torture was used freely and with extreme cruelty, often over long periods. In particular, torture was used systematically against those who had no means of appeal to influential friends or established institutions."
Many took to Twitter on 14 August as the rally unfolded, tweeting under the hashtag #MarcosNotAHero. Images and videos showed demonstrators standing in the pouring rain as they urged President Duterte to reconsider his decision over Marcos' hero burial.