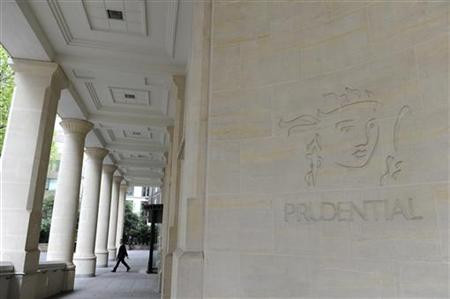 Prudential shares, up 6.83 pct from yesterday have fallen this morning as they confirmed talks with AIG to renegotiate the deal.
In a statement on Friday, the insurance company said: "We confirm that discussions regarding the current status of the transaction have taken place between Prudential and AIG and are continuing,"
"These discussions may or may not lead to a change in the terms of the combination of AIA Group Limited and Prudential."
Shares are down 0.5 pct in early trading despite rumours the bid may collapse, sending the share price soaring in yesterday's morning session. Since then, the shares have somewhat pared the gains as a renegotiated deal appears likely to 'creep through' - according to analysts.
If Prudential fails to gain adequate shareholder support at the vote Monday 7 June, then the company stands to lose £153 million in penalty fees if the $35.5 bn deal with AIG does not go through.
If matters are delayed, they may also be subject to monthly payments.
Any change to the price should reflect integration risks that Prudential will face, said Patricia Cheng, an analyst with CLSA.
"Prudential's target, to triple AIA's new business value by 2013, looks too aggressive," she said.
"The price can't be based on this target. But the price can't get much lower either. Investors have an idea of these integration risks and I don't think they are likely to agree to the deal."
In a poll, conducted - 72 pct of shareholders think that Tidjane Thiam, CEO has paid too much.
Bernstein Research analyst Toby Langley said a $5 billion reduction in the price would make the deal earnings neutral to Prudential by 2013-14.
"A cut of $3.5 billion would see earnings dilution of 5 percent in 2013 with neutrality in 2015," he said in a note.
The Prudential Action Group, who are campaigning for shareholders to oppose the deal reckons that 21 pct of shareholders are going to vote against it - Prudential require 75 pct in order to pass it.
Peter Lees, head of equities at F&C said he wanted Prudential boss, Tidjane Thiam to cut the deal to $30bn or walk away.
"Prudential was in a good spot and was our favourite life company," he said.
"With its good growth story in Asia and solid businesses in the UK and US, this was 'a nice deal to have, not a must have'" he added..
The end result - is that AIG will more than likely walk away, he says, as they have a clear back-up plan to float part of the company.
"There will be plenty of frank discussion at the shareholders meeting" said Mr Lees, adding that "There will be others more aggressive than us."