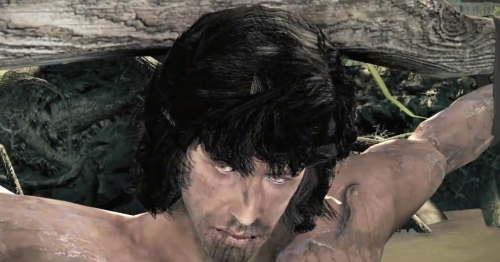 A post on the official PlayStation Blog has highlighted a new trailer for Rambo: The Video Game, which is set to release on multiple platforms during "early 2014".
The game happens to be an arcade-style rail-shooter which manages to squeeze three movies worth of classic Rambo action into one single game.
Its USP, apart from allowing players to step into Ramobo's combat boots, is to offer players a chance to experience iconic action sequences that the movies are famous for.
"Authenticity to the classic motion-pictures has been key throughout the development process - and we were greatly assisted by our partners at Studiocanal who spent weeks searching their extensive archives to find original on-set recordings from John Rambo (Sylvester Stallone) and Col Samuel Trautman (Richard Crenna)," said Piotr Latocha a producer at Teyon, in the post.
Staying in line with the move franchise, the game won't just be about running and gunning. Instead, the developers will aim at offering a more authentic Rambo experience.
"We want Rambo The Video Game to give players the chance to take-on the classic scenes from the motion-picture trilogy through John Rambo's eyes. And just as John Rambo was an expert infiltrator - not every mission will be based around pure shooting skills: silent bow takedowns and perfectly timed stealth (lethal or nonlethal) eliminations will be required too."
Gamers who pre-order it from select stores will be treated to John Rambo figurines based on the movie posters for First Blood and First Blood Part II.
Fans of the move franchise will love the fact that the game features original movie voice-tracks for John Rambo (Sylvester Stallone) and Col Samuel Trautman (Richard Crenna), and includes extracts from the original movie soundtrack.
The game will also encourage replay-ability by offering a levelling system that will encourage gamers to replay its 16 missions and aim for better scores.
The PlayStation 3 version of the game will support the Move controller, meaning that players, apart from aiming, will get to lob grenades and perform some stealthy but gruesome executions.
The game has been slated for an early 2014 release on the Xbox 360, Windows PC, and PlayStation 3.