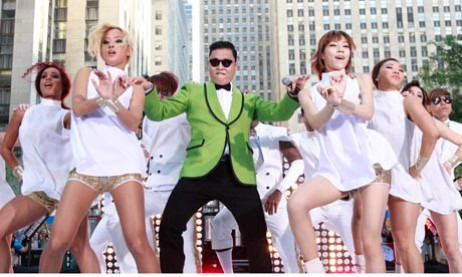 Gangnam Style sensation Psy has hinted at a possible collaboration with pop superstar Justin Bieber.
The rapper, who became the first South Korean musician to reach No 1 in the UK with his debut dance hit, revealed that the duo plan to make something "huge".
He told Capital FM during a recent appearance: "Yeah, so we have a plan to do something together later but we doesn't have any details yet. But, sure - we gonna do some work later on."
Following the dance track's phenomenal success, the star insisted that it was inevitable that the pair's collaboration would also be a hit.
He continued, "I mean of course you know, hundreds of millions [of views] combined on YouTube - it's gonna explode right?""
After Gangnam Style topped the charts in over 20 countries this summer, Bieber's manager Scooter Braun signed Psy to his label Schoolboy Records in September.
According to the Sun, Psy - who took home the Best Video award at the 2012 MTV EMAs - previously revealed that his next single will contain more English.
"I'm working on my next album and single, and it has more English so you can get it. I feel happy and sorry because when I perform the song they look so happy, but they don't have any idea what I'm talking about.
"So we're gonna have some English in it," he added.
Would you like to see Psy and Justin Bieber team up musically?