Public toilets and private affairs: Why the history of gay cruising deserves an exhibition
KEY POINTS
A new exhibition in Berlin celebrates the historical importance of anonymous same-sex hook-ups in toilets.
Men from all parts of society would meet in toilets before dating apps and clubs were widespread.
The exhibition features the experiences of a 98-year-old gay man.
In 1998 the singer George Michael was forced to come out as gay after he was arrested for engaging in a "lewd act" in a public toilet in Beverly Hills, California.
Rather than shy away from the incident, he used it as the concept for the video of his next single: Outside. The video, featuring glittering urinals and Michael dressed as a sexy police officer, brought the underground culture into the mainstream.
Still, cruising, or "cottaging" as it is known in the UK, was nothing new. As artist Marc Martin explored in his exhibition documenting its history, the practice of anonymous sex between men in public lavatories was the way for gay men to meet before the emergence of dating apps and gay clubs.
Public Toilets, Private Affairs at Berlin's Schwules Museum* uses everything from toilet doors daubed with sexual graffiti and pierced with glory holes, and police vice squad books used to log lawbreakers to a front cover of The New Yorker to argue that gay men should be proud of the history of cruising.
IBTimes UK spoke to Martin to find out more.
Why is cottaging such a source of shame for gay men?
Many modern queers would rather forget this chapter of their past. One must not forget that homosexuality has long been banned in the eyes of the law. Before digital cruising, before apps, when homosexuality was illegal men often had no alternative whatsoever to live according to their impulses than to find themselves in public toilets, which seemed "neutral" in appearance.
These seemingly squalid, gloomy and stinking places were incredible places of social mixing. Homos and straights of all social strata, men of all ages, cultural and religious backgrounds – they all came together there.
Mischief in public toilets left more traces in vice squad logbooks than in high literature. My work brings colour and life to these long-gone meeting places in the shadows.
What is your favourite story from the exhibition?
I interviewed people anonymously – the oldest of them, Marcel, a Parisian who celebrated his 98th birthday. I even interviewed a homosexual former policeman born in 1937, who, in his small town in post-war Germany, had no choice but to flirt in the urinals to meet boys like him, despite the risk of being denounced or unmasked.
What significance do you think your exhibition has now that it is easy to hook up over apps like Grindr?
The young queer movement today seeks to promote sexual encounters far away from the backrooms and stereotypes of old-fashioned cruising. But this young generation dating on digital applications and so practising "sex à la carte" - has it not lost a little spontaneity in the approach of each other?
In public toilets, the unexpected and the unknown were major ingredients to sexual arousal. It was indispensable to make a move towards the other, to seek his contact directly. It was not about displaying one's own fantasies but about sharing and exchange. Hooking up with others was what counted in urinals. There was certainly prudence and modesty in exhibiting one's genitalia. Today's youth unpacks everything in their online profiles, long before they even start playing with each other. I find that hardly exciting, to be honest.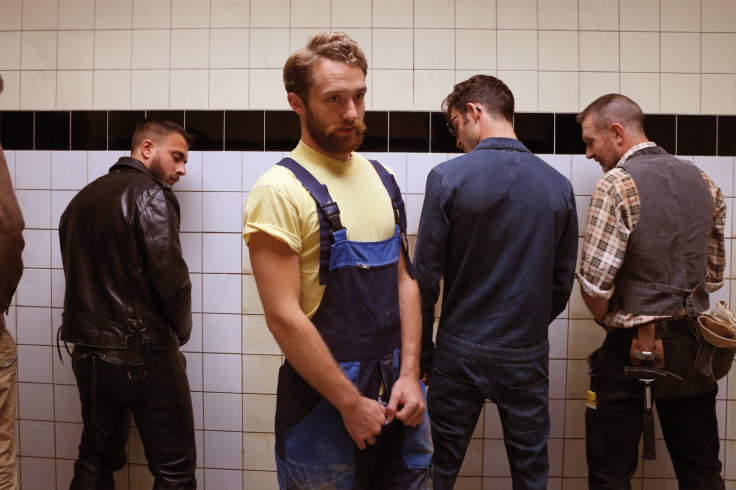 Toilets are also a hot topic in the debate surrounding trans rights. How does your exhibition play into this?
Long before parts of American society voiced opposition to Obama's rule on transgender people's bathroom use, a project of toilets aimed at transgender people in public services was initiated in Berlin. I did a photoshoot at a urinal with a wonderful transvestite. Those pictures are in the book accompanying the exhibition.
Women never enjoyed the benefits of these conveniences designed by men for men. Yet, some of them had at a very early stage campaigned for gender equality in toilets, but their demands were never heeded. Taking a piss in the 19th century city is first and foremost a man's business – which takes us back to feminism's early days and raises important questions about gender.
What do you think of George Michael's depiction of cottaging in Outside?
Men indulging into illicit activities in public toilets put their reputation at risk and incurred a penalty.
I found many traces in vice squad logbooks. Some of them were well-known public figures.
From a Parisian rising star of the monarchist clerical right against Republicans in the 19th century, arrested by the police vice squad in the vicinity of the Champs-Élysées "vespasienne", to a minister of information under the Fourth Republic, there are many detailed stories.
George Michael, caught exposing himself to a plain-clothes officer in a Beverley Hills lavatory, faced no alternative but to come out and accept the consequences. He eventually turned the whole episode into a stunning music video, which breathed new life into his flagging career. Hats off!
Public Toilets, Private Affairs is running at the Berlin Schwules* Museum until 5 February 2018