Russian President Vladimir Putin has said ambassadors will need a higher level of protection to be arranged "in certain countries," according to local reports.
Following the assassination of Andrey Karlov, Russia's ambassador to Turkey, who was gunned down in Ankara on Monday 19 December, Putin said new arrangements will need to be considered.
He revealed a common rule that armed guards only worked within embassies and said it was "a problem" they could not take their arms outside, according to Russian news agency TASS.
Putin added this was not an issue in Turkey, but in some countries, where he added, "opposite agreements could be reached".
The comments came as Russia and Turkey launched a joint investigation into Karlov's murder.
A delegation of 18 Russian officials is in Turkey and will work alongside 100 officers in Turkey's anti-terrorism unit.
So far 11 people have been detained, including gunman Mevlut Mert Altintas's mother, father, sister and flatmate.
In addition to any allegiances and accomplices, the investigation will try to establish why Altintas was not taken alive by Turkish security forces who stormed the art gallery where the shooting took place.
Turkish news agency Anadolu reported that the investigator's initial findings show that Altintas continued to fire at officers, after he was shot in the leg.
It was also revealed he took a sick day, producing a sick note, on the day of the shooting. He then spent two hours in a hotel room he previously booked, before making his way to the art gallery.
Turkish President Tayyip Erdogan defended police actions in killing Altintas.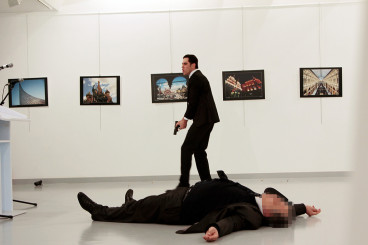 "There is some speculation about why he wasn't captured alive. Look what happened in Besiktas when they tried to capture an attacker alive," Erdogan told Reuters, referring to twin bombings this month outside the stadium of Istanbul's Besiktas football team.
The explosions killed 44 people, mostly policemen, and wounded more than 150. The second explosion saw a suicide bomber detonating explosives while surrounded by police.