Update: A Moscow court has ruled that Russian opposition leader Alexei Navalny should be jailed for 30 days for staging an unsanctioned rally in Moscow.
The anti-corruption rallies called for by Navalny were held in more than 100 Russian towns and cities on Monday. In Moscow, thousands of angry protesters held an unsanctioned rally on Tverskaya, the capital's main street. More than 1,000 people have been arrested across Russia.
The judge at the Simonovsky district court ruled after midnight Monday that Navalny should be jailed for repeated violations of the law on public gatherings.
Navalny was detained outside his home an hour before the rally was to start.
---
Original Article: Vladimir Putin's most vocal critic, opposition leader Alexei Navalny, has been arrested after he urged his supporters to join him at anti-corruption protests across Russia on Monday (12 June), a national holiday.
Navalny, who hopes to unseat Putin in next year's elections, was detained at home ahead of the demonstrations, his wife said on Twitter.
"Alexei has been arrested in the entrance to our block of flats," Yuliya Navalny wrote, adding "our plans haven't changed."
She also shared a photo of several police cars waiting outside their apartment.
The leader of the Progress Party, who has previously been jailed for organising and leading protests, was left partly blinded after he was doused with a chemical green liquid in March. He was handed a five-year suspended prison sentence in February after being found guilty of embezzlement.
Before his arrest, Navalny had urged his supporters to take to the streets and oppose Putin's government. "I want changes. I want to live in a modern democratic state and I want our taxes to be converted into roads, schools and hospitals, not into yachts, palaces and vineyards," he said.
Police said Navalny would be charged with failure to follow police orders and violation of public order if he attended a rally in Moscow this afternoon, where he was expected to address supporters.
Ahead of the rallies, police warned that they would take action if protesters broke the law and attended the unauthorised demonstration in Moscow. More than 1,000 people were arrested at a similar rally organised by Navalny in March.
Another activist and prominent Navalny supporter, Daniil Ken, was also arrested as he left his home in St Petersburg. He urged people to hold the protest in his absence at the city's Champ de Mars square. "Go for me please!" he tweeted.
NGO OVD-Info says more than 121 people have been detained in Moscow and 137 in St Petersburg.
Protesters are heard shouting "Russia without Putin" and "down with the Tsar" in footage shot in St Petersburg.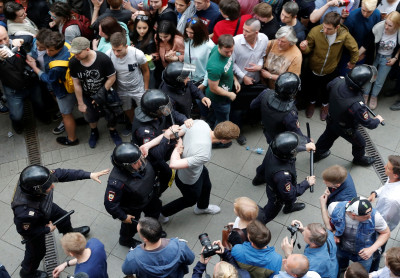 In a video shared by the Washington Post's correspondent in Moscow, Andrew Roth, riot police were shown clashing with protesters. They hit demonstrators with batons as they arrested demonstrators and led them through the crowd.
Several people were also detained at protests in the east of the country, with at least eleven being detained at a rally in the city of Vladivostok. Demonstrator Alexei Borenko, who managed to elude police attempts to arrest him, told the crowd that he was at the rally "first of all because of the corruption in Russia which is becoming incredibly big in Russia."
MEP Guy Verhofstadt said the action taken by Russian authorities showed that they "are scared of civic engagement" and called on EU institutions to "condemn suppression of peaceful protests."