An outspoken critic of Russian President Vladimir Putin has been arrested in central Moscow.
Alexei Navalny, leader of the opposition Progress Party, has been an active anti-corruption crusader for years and held a rally decrying the Kremlin's alleged fraudulence on Sunday (26 March).
Russian police declared the protest "illegal" and warned that they will "bear no responsibility for any possible negative consequences" for people who show up, but Navalny vowed to press ahead anyway.
Navalny was arrested shortly afterwards as crowds gathered in Moscow's Tverskaya Street and he was put in a police truck.
But hundreds of protesters reportedly gathered around the police van and tried to prevent authorities from taking him away.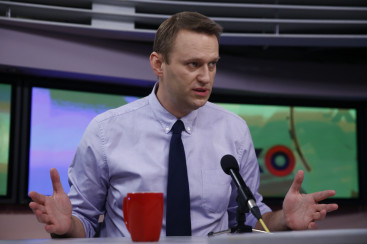 Reuters journalists also saw at least 30 other protesters arrested, however rights groups claim the figure is as high as 130.
Shortly after his arrest, Navalny tweeted he was "OK" and urged the protesters to continue the rally, which drew several thousand people.
The lawyer-turned-politician is no stranger to being in the back of police vans for his outspoken criticism of Putin and Prime Minister Dmitry Medvedev.
Earlier in March, Navalny's investigative reporting fund published allegations against Medvedev, which detailed expansive property holdings, worth billions of roubles, listed under "puppet" charities and foundations.
At the demonstration, protesters held signs which read "corruption steals our future" and "the prime minister should answer" as they chanted anti-government slogans.
Following Navalny's last arrest, in which he served 15 days at a Moscow detention centre in 2015, he vowed to continue his activism. He also pledged not to be silenced after another vocal critic, Boris Nemtsov, was fatally shot four times in the back.
"There will be no let-up in our efforts, we will give up nothing. This act of terror has not achieved its goal in this sense," Navalny said. "I am not frightened and I am sure my associates are not frightened either."
Earlier this week, Navalny was also attacked with an antiseptic liquid which stained his skin and hair green for several days, as he met supporters for his candidacy for the 2018 presidential elections.
However, on 8 February, Russian authorities charged him with a five-year sentence for embezzlement in what Navalny claimed was an attempt to remove him from the race.