Putin and Medvedev get together to work up a sweat in Sochi
New photographs of Russian President Vladimir Putin show him sharing a workout with Prime Minister Dmitry Medvedev at a state residence in the resort town of Sochi. The pictures, taken on 30 August, show the action-man president and his PM arriving at the gym in their tracksuits before tackling the different machines.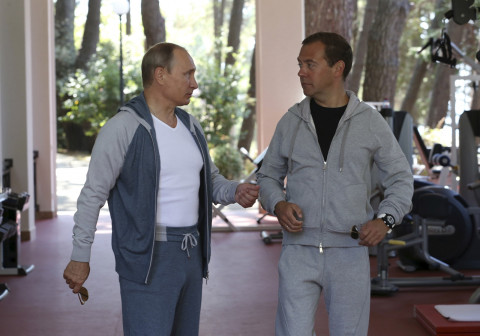 After working up a sweat, Putin and Medvedev stripped down to their T-shirts, with the Russian leaders taking turns to use the equipment. In this photo, Putin is seen using the cable and pulley machine for a full-body workout.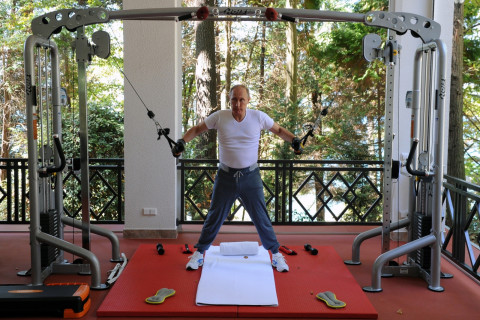 Putin has a strongman image in Russia, where his macho pursuits have received a lot of publicity. He has a black belt in judo and has frequently been pictured engaging in outdoor sports such as fishing, hunting and horse riding, appearing shirtless on many occasions. But this time he managed to stay dressed.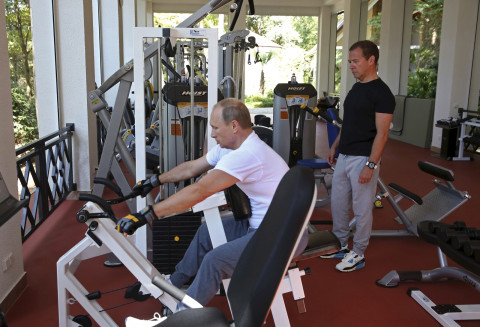 Putin and Medvedev took turns to watch each other's prowess in the gym, with the Russian president looking on approvingly as Medvedev worked on his upper body strength.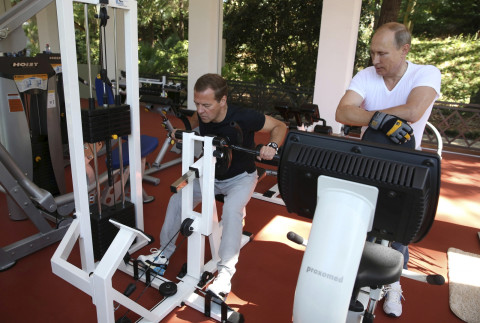 Their enthusiastic workout must have tired them both out, as the two leaders had to take a break from using the equipment. Possibly to discuss important issues of the day, such as which Baltic state Russia will absolutely not annex next.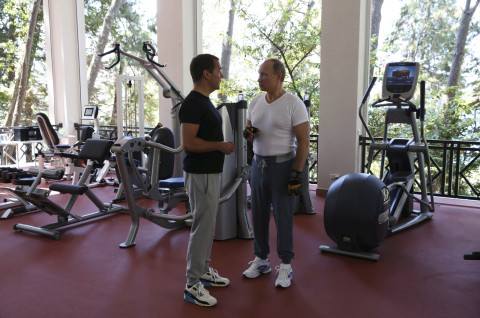 After working up a sweat, the two men decided to make their manhood clear and roast some meat together. They both appeared to be sharing the BBQ duties, as real men do.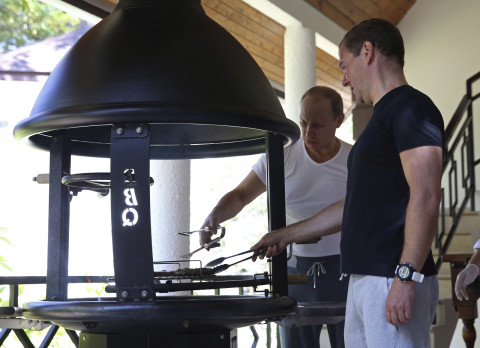 After cooking breakfast, the two toasted their success in the gym and at the coals with a steaming hot drink of tea. Although it is not known if they did the washing up afterwards.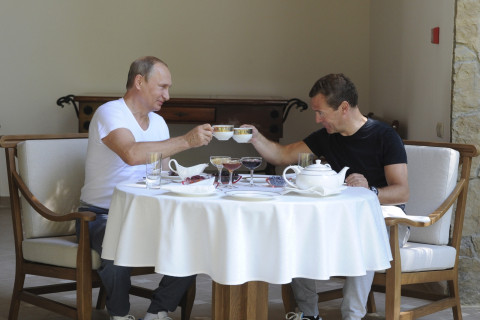 Finally, no photo gallery of the Russian president can be complete without the unforgettable image of a shirtless Putin astride a horse. Despite being taken six years ago, the image remains much shared, discussed and parodied to this day.