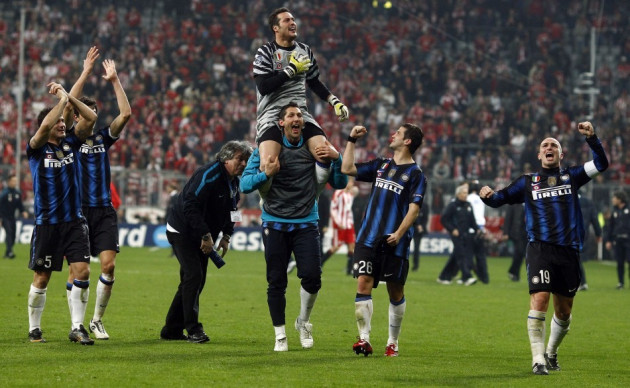 Queens Park Rangers have confirmed the signing of Inter Milan goal keeper Julio Cesar, in what could well be the biggest transfer coup in the club's history.
However, the deal is subject to the Brazilian No 1 receiving international clearance and being given a UK visa.
Cesar had two years left on his Inter Milan contract but the agreement has been rescinded by mutual consent.
"It's fantastic that we've been able to attract a keeper of such outstanding ability to the club. When the opportunity to sign a player of his quality presents itself, you have to act quickly and we've managed to get the deal done," manager Mark Hughes was quoted as saying by the club's web site. "He's an outstanding individual, as well as being an outstanding player. Not only will we benefit from his ability, but we'll also benefit from his experience and winning mentality."
Cesar, 32, has won the Champions League and the Italian Serie A with Inter, but has been steadily frozen out of the first team at the club and after the arrival of Slovenian international Samir Handanovic, from Udinese, his chances of first team action were limited.
"I want to thank everyone for these seven wonderful years. I would like to be on the pitch before Inter-Roma to hug all the fans. That would be a nice gesture and I don't think the president will deny me that," the Brazilian said.
He added: "I choose to join QPR because I think will play more than at Inter and Premier League is watched worldwide. I am a bit surprised, but I am delighted to have been given the opportunity by QPR to come to London, learn English and play in the Premier League."
The former Flamengo and Chievo Verona shot stopper was refreshingly candid about other reasons for leaving Inter.
"It all started during my summer vacation, when Inter suggested that I reduce my salary. No player in my situation would have done that - I am not a hypocrite and I can talk openly about this. It became a tough situation for both parties. I then spoke to my representative and I thought this was a good choice," he explained.
"This is a really significant coup for the football club," club chairman Tony Fernandes said in a BBC report, "Julio's track-record and standing within the game speaks for itself and we are delighted to have him on board to compete with Rob Green and the other keepers at the club. I think it shows our ambition that we've managed to attract a player of Julio's undoubted talent and class to Loftus Road. He's at the peak of his powers as a goalkeeper and I'm sure the Rangers fans are as excited as I am about seeing him play for us."
The arrival of Cesar leaves the club's present No. 1 in a fix. England international Rob Green joined QPR on a free transfer earlier this summer and has made only three appearances for the club but is likely to be deposed once Cesar becomes available for selection.
"It was always my intention to bring two goalkeepers to the club this summer and now we've got fantastic competition in that department," Hughes explained. However, the former Manchester City manager admitted he had yet to talk to Green over the new signing.
"Certainly I will sit down with Rob and go through it," he explained in BBC's report, "It is a challenge for everybody. What we're trying to do here is improve the quality of the group and that includes the goalkeeping position as well."