Qualcomm's late 2015 roadmap has reportedly been leaked online as fresh details emerge pertaining to its top processor configurations for the year, including the successor to the current Snapdragon 810 system chip, the Snapdragon 820.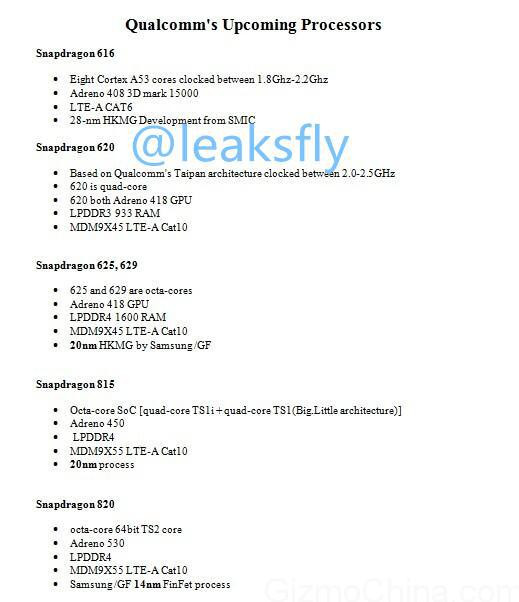 Snapdragon 820
According to the recent specifications leak by @leaksfly via Twitter, some of the noteworthy features proposed for Qualcomm's first custom 64-bit CPU (Snapdragon 820) based on Taipan architecture include the 14nm FinFet fabrication process that supports up to eight 64-bit TS2 high-performance cores, besides featuring an Adreno 530 Graphics unit paired with LPDDR4 memory technology.
The new 14nm FinFet fabrication process is said to be highly power-efficient, while also boosting the overall performance of the system drastically.
As Phone Arena reports, the end of life cycle for Krait processors seems to have forced the quick transition to 64-bit chip manufacturing process from Qualcomm with the aim of improving performance and power efficiency at the same time.
Snapdragon 815
Next up in the list for the Snapdragon 8xx series is the Snapdragon 815 CPU with four TS1 and four TS2 high-performance cores in a big.LITTLE configuration.
The 815 supports an Adreno 450 GPU with the same MDM9X55 LTE-A Cat.10 modem and LPDDR4 memory technology that is being used with the Snapdragon 820 configuration.
The only key difference is that the Snapdragon 815 will be based on 20nm node as opposed to the 820's 14nm fabrication.
Snapdragon 620, 625 and 629
The Snapdragon 6xx series falls in the mid-range category featuring two identical processor fabrications in Snapdragon 625 and 629, wherein both are powered by octa-core SoCs with Adreno 418 GPU, LPDDR4 RAM and a basic class MDM9X45 LTE-A Cat.10 modem.
The Snapdragon 625 and 629 are based on the 20nm HKMG Samsung/GF fabrication process.
On the contrary, the Snapdragon 620 is said to be the affordable quad-core variant with Qualcomm's Taipan cores clocked between 2.0 and 2.5 GHz and supported by an older LPDDR3 RAM technology.
The rest of the hardware features will remain the same for Qualcomm's 620 processor chip including the Adreno 418 GPU and a MDM9X45 LTE-A Cat.10 modem.
Snapdragon 616
Finally, the leak points to the fourth variant in Qualcomm's Snapdragon 6xx series, which is the Snapdragon 616 with eight cortex A53 cores clocked between 1.8 GHz and 2.2 GHz.
The 616 SoC is expected to ship with an Adreno 408 GPU whose 3Dmark score stands at 15,000 points.
The chip is said to be based on a 28nm HKMG fabrication process done by Shanghai-based Semi-Conductor Manufacturing International Company (SMIC).
Though the leak seems to originate from China which is the homeland for Qualcomm's chip fabrication, the information contained in the leaked document cannot be verified for authenticity and hence the speculation should be taken with a pinch of salt.