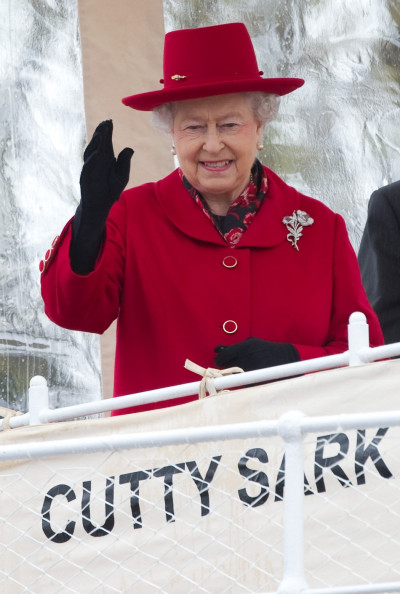 The Queen and Prince Philip, the Duke of Edinburgh, arrived in Greenwich for the official launch of the Cutty Sark, the world's last surviving tea clipper.
Regarded as one of Britain's greatest maritime treasures, the Cutty Sark was reopened following an extensive conservation project, with major support totalling £25m from the Heritage Lottery Fund.
For the historic launch, the Queen dressed in a red coat and matching hat, with a diamond floral brooch and black gloves.
"Cutty Sark holds a unique place in the heart for the people of Greenwich, Great Britain and, indeed, the rest of the world, and it is splendid that she is rejoining the London skyline once again," Lord Sterling, chairman of Royal Museums Greenwich and the Cutty Sark Trust, said in a statement.
Built in 1869 for the Jock Willis shipping line, the Cutty Sark was one of the last tea clippers to be built and one of the fastest. It was badly damaged in a fire on 21 May, 2007 while undergoing conservation and had to undergo extensive restoration.
"We have been privileged to be involved in conserving Cutty Sark and restoring her to her key position in the Greenwich World Heritage Site. Our solution, a world first, will secure Cutty Sark's future so that she can continue to inspire many new generations of adventurers at the heart of the Royal Borough of Greenwich," Richard Doughty, director of the Cutty Sark Trust, said at the relaunch.
During its restoration, the Cutty Sark has been raised 11 feet into the air, although her unique shape was preserved. The ship now showcases an extensive collection of over 80 ships' figureheads that have never been displayed before in its entirety on the site.
The Cutty Sark is one of three ships in London on the Core Collection of the National Historic Ships Register, alongside the HMS Belfast and SS Robin.
IBTimes UK has compiled a slideshow of the event: