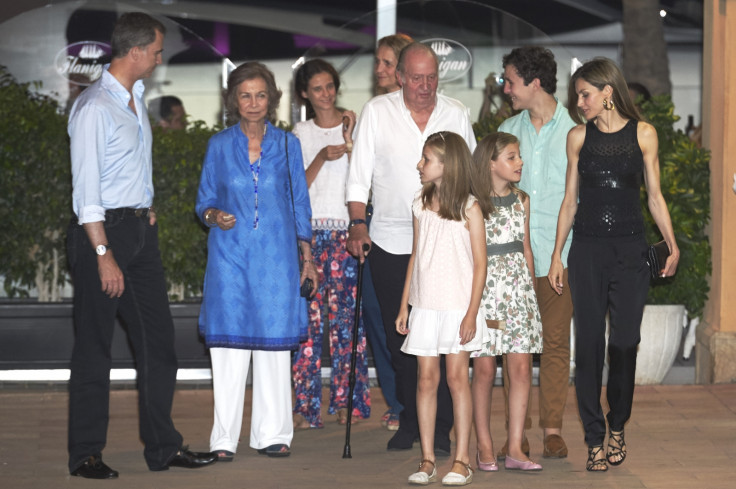 The Spanish royals were out in full force on Sunday night (31 July) as they reunited for a family dinner at the esteemed restaurant Flanigan in Palma de Mallorca, Spain.
Queen Letizia, 43, led the glamour of the regal troop in an all-black outfit comprising a black sparkly diaphanous tank top with tailored black trousers and strappy black sandals. She finished off the stylish look with a pair of statement hoop earrings and dewy evening make-up.
She was joined by her husband of 12 years, King Felipe VI, and their two daughters Princesses Leonor and Sofia, who looked adorable in summery dresses and flat shoes.
The family headed to former King Juan Carlos and Queen Sofia's favoured restaurant, Flanigan, which is located in the glamorous tourist spot of Puerto Portals – a sports harbour in Portals Nous in the municipality of Calvia, Mallorca.
Puerto Portals has become a meeting place for businessmen, high society characters and celebrities in recent years and is also the scene of major prestigious international sailing events.
The restaurant is located nearby the higher-priced, notably larger and more impressive yachts, so it is likely that the royals were seated within good distance of the many big motor boats.
They would have feasted on traditional Mallorcan and Mediterranean food that the famous restaurant is known for – including the likes of Mallorcan tumbet, paella and lobster.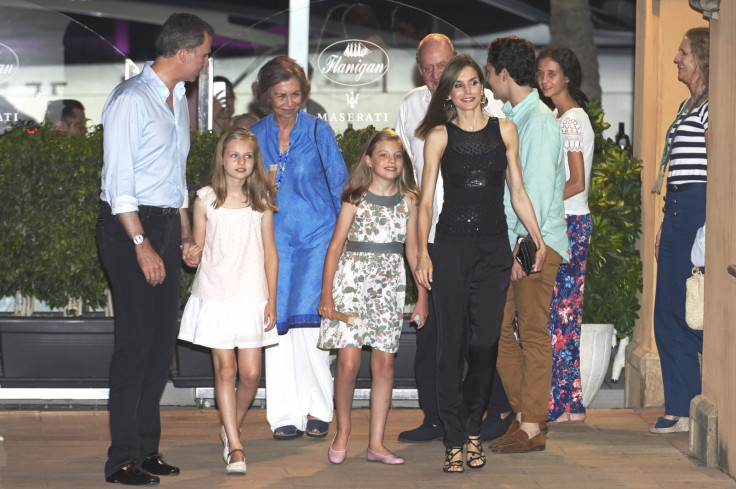 Sofia, 77, looked remarkable for the royal family outing in a cobalt blue tunic paired with wide-leg trousers which complimented her sun-kissed complexion. She appeared in high spirits along with the other family members as they laughed and joked amongst themselves and made the most of their summer break.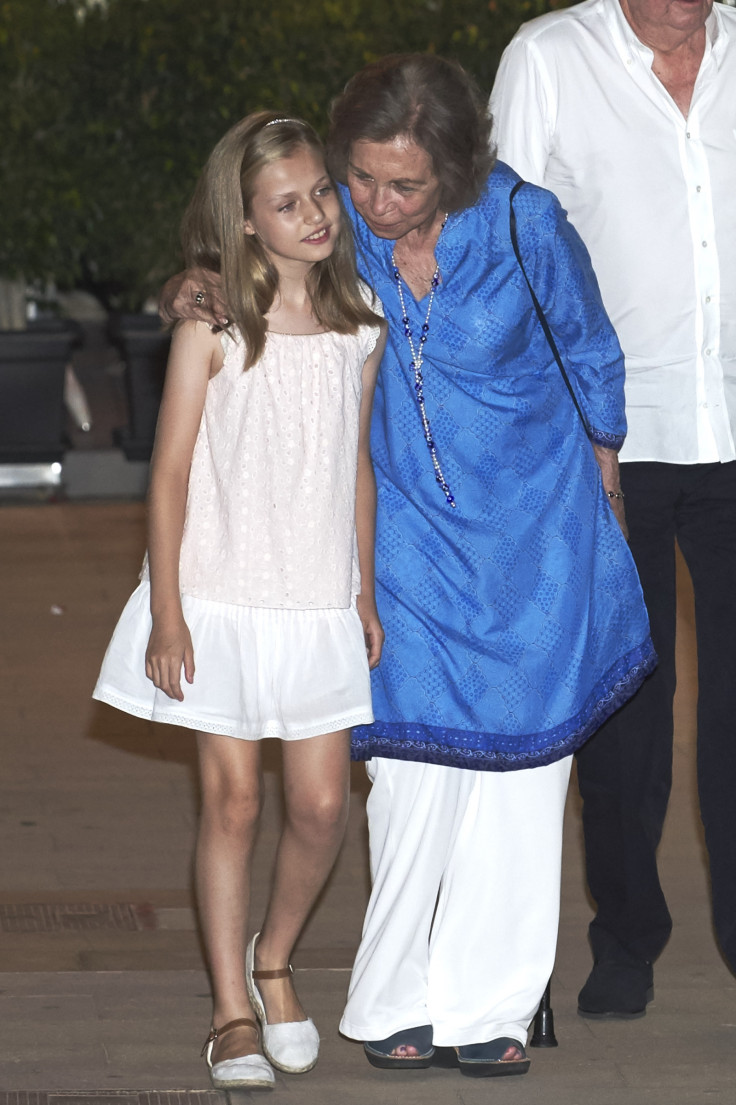 Felipe's older sister, Infanta Elena, 52, also brought along her two teenage children, Victoria and Felipe, who looked happy and casually dressed for the fine dining experience.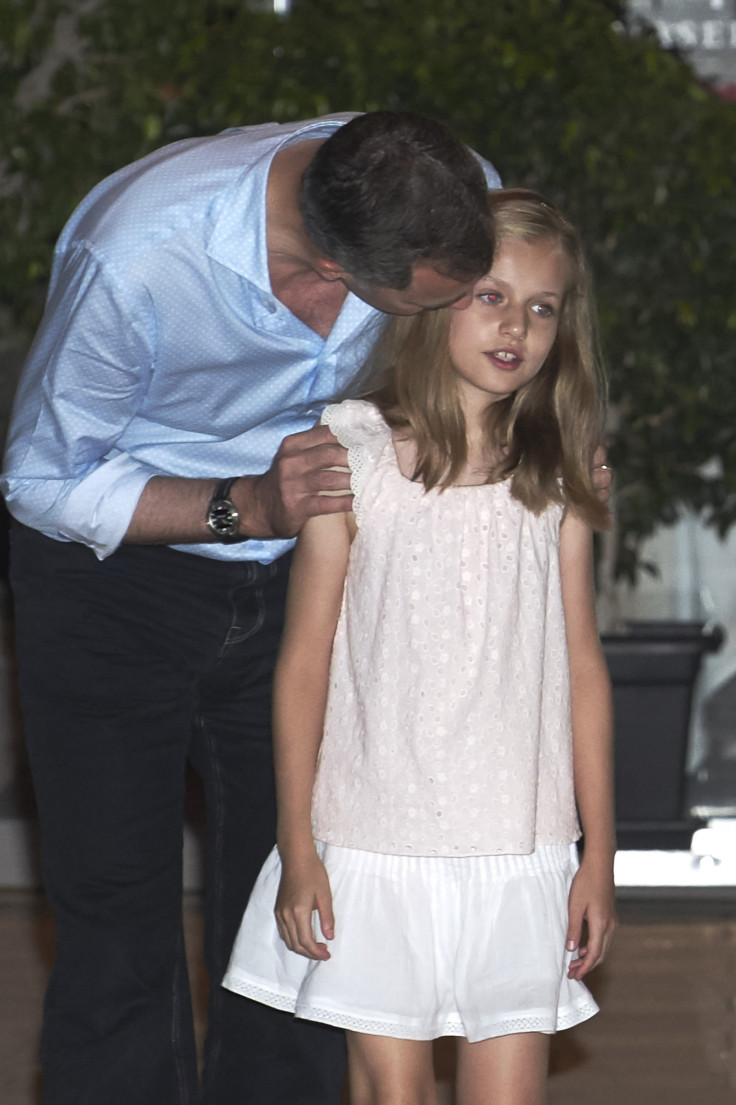 There were many demonstrative moments captured on camera between the family members, including Felipe's hands-on approach with his two young daughters and Princess Leonor, 10, giving her grandmother Sofia a big hug. Princess Sofia, 9, was also seen chatting and holding hands with her mother, Letizia.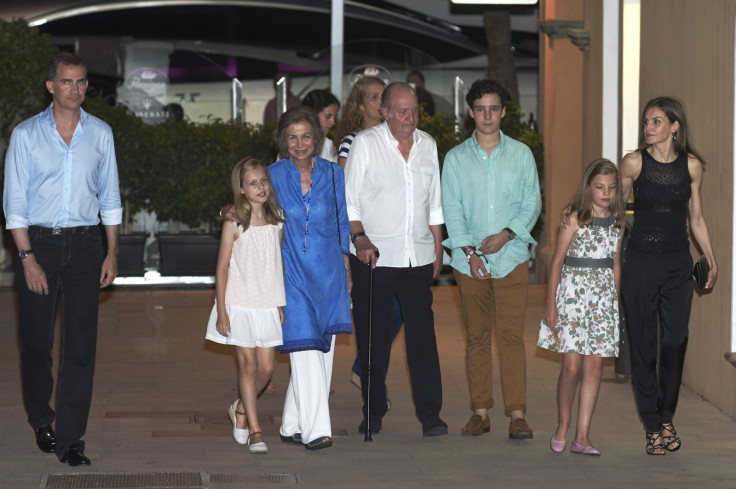 Felipe and Letizia arrived in Mallorca from the Spanish capital of Madrid where they waved off the Spanish national team at the airport before they participate in the 2016 Rio Olympics. While Sofia has been in Mallorca for some time, Juan Carlos, 78, flew in from Lima where he attended the investiture of the new Peruvian president Pedro Pablo Kuczynksi.