The Queen has shaken hands with Northern Ireland's deputy first minister and former IRA commander Martin McGuinness, 33 years after the organisation murdered her cousin, Lord Louis Mountbatten.
The pair shook hands in a private meeting at Belfast's Lyric Theatre. The move is considered to be an historic moment in Anglo-Irish relations.
They then shook each other's hands again in public following the meeting, which was also attended by Irish President Michael D Higgins and Northern Ireland's First Minister Peter Robinson.
The meeting took place at an arts event organised by the charity Cooperation Ireland, which works to bring communities together.
The move was not only an historic moment in the peace process but also a poignant one for the Queen.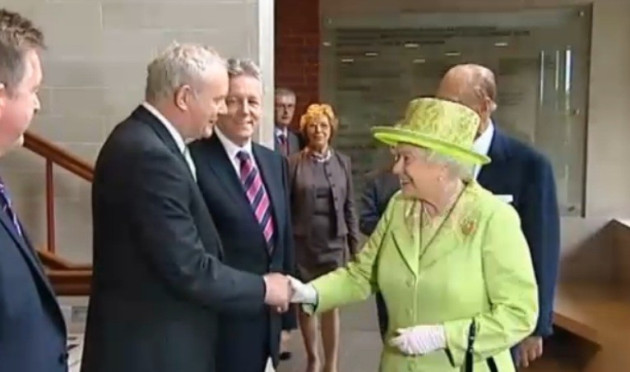 McGuinness was a senior member of the IRA when it killed the Queen's cousin and Prince Philip's uncle, Lord Louis Mountbatten, in a bomb blast in 1979.
Prior to the meeting, McGuinness said: "I have shaken the hands of many unionists over the course of recent years, people who have appreciated my contribution and my party's contribution to peace.
"But in shaking the hand of Queen Elizabeth I am effectively, symbolically, shaking the hands of hundreds of thousands of unionists.
"That is a good thing. That is something that is very important to do, particularly in showing unionists that a spirit of generosity on all sides can pay huge dividends for all of us."
A spokesman for prime minister David Cameron said: "There was a visit by Her Majesty to the Republic of Ireland last year. That has taken relations between the two countries to a new level."
The IRA renounced violence and disarmed in 2005. Two years later, McGuinness became deputy first minister at Stormont and the most senior Catholic in Northern Ireland's unity government.
A mile-long exclusion zone was placed around the venue prior to the meeting, following rioting that broke out overnight when around 100 protesters bombarded police lines with petrol bombs.
Nine officers were hurt during the disorder as 21 petrol bombs were hurled by Republicans in protest at the Queen's visit, which is part of her Diamond Jubilee tour.