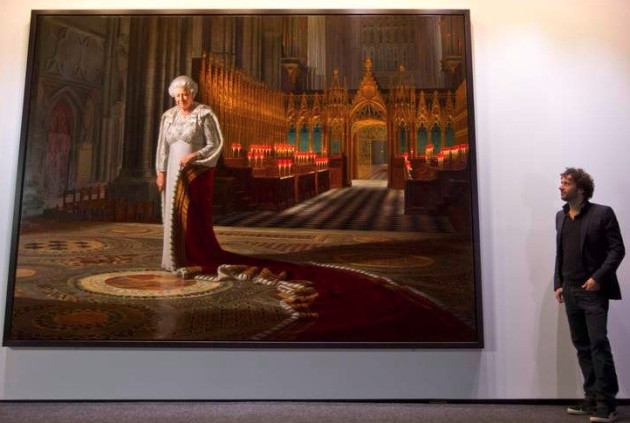 A member of the Fathers4Justice campaign group have been arrested after a portrait of the Queen was defaced with spray paint in Westminster Abbey.
A 41-year-old man was being held on suspicion of criminal damage after being detained by security guards at the Abbey, Scotland Yard said.
Fathers4Justice, which campaigns for access to children on behalf of divorced and seperated fathers, confirmed the man in custody was one of its members, but denied he had acted on behalf of the group.
Fathers4Justice said in a statement: "This is not an official F4J protest. We have just received this blurred image [scroll down for image].
"We understand the father was trying to write a message to the Queen begging for help before Fathers Day."
The portrait by Ralph Heimans was removed from public view following the incident, a spokesman for the Abbey confirmed.
It was unveiled last year during the Queen's Diamond Jubilee celebrations. It had been on display in the Chapter House section of the Abbey.
The incident comes nine days after the Queen and other members of the royal family attended a service at the Abbey to mark the 60th anniversary of her Coronation.
An Abbey spokesman said: "In an incident at lunchtime today, a visitor to the Abbey sprayed paint on the Ralph Heimans portrait of the Queen presently on display in the Chapter House.
"Until work can be done to remedy the damage it will, very regrettably, not be possible to have the painting on public view."
(Twitter image of vandalised royal painting)
The portrait, entitled Coronation Theatre, Westminster Abbey: A Portrait of Her Majesty Queen Elizabeth II, was commissioned by the Queen and depicts her in the Sacrarium of the Abbey.
The monarch had posed for an hour-long sitting in the Yellow Drawing Room at Buckingham Palace in March last year.
One of Australia's leading portraitists, London-based Heimans' other commissions have included Elisabeth Murdoch, former Australian prime minister Paul Keating, and even the French rugby team.
On a December morning in 2003, four members of the group climbed Tower Bridge dressed up as Father Christmas, and hung out a banner calling for the resignation of children's minister Margaret Hodge, who they blamed for inequalities in family law. Conspiracy charges were later dropped.
In September 2005, protester Guy Harrison scaled the Houses of Parliament dressed as Batman and rolled out a banner asking: "Does Blair care? For Fawkes sake change family law." He was acquitted by a jury of causing a public nuisance.
(Guy Harrison atop the Houses of Parliament in 2005)