An historic image of the Queen flanked by her five great-grandchildren and two youngest grandchildren has been released to mark Britain's longest-reigning monarch's 90th birthday. The picture was one of three captured by celebrity photographer Annie Leibovitz just after Easter and features two-year-old Prince George standing beside his "Gan-Gan" while 11-month-old Princess Charlotte is perched on her lap.
The official snap was taken in the Green Drawing Room at Windsor Castle and was released by Buckingham Palace. Also pictured alongside Queen Elizabeth II is Zara Phillips' daughter Mia Tindall, who can be seen holding her grandmother's iconic black handbag, Peter Phillips' daughters Savannah and Isla and the Earl and Countess of Wessex's children James, Viscount Severn and Lady Louise Windsor.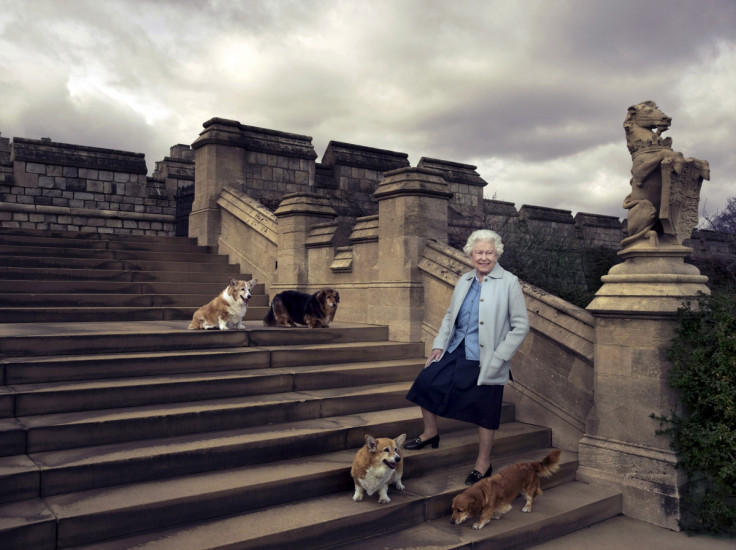 Among the other pictures is one of the Queen walking in the grounds of Windsor Castle with her four dogs – corgis and Willow and Holly and "dorgis" Candy and Vulcan. The third is a touching image of the Queen with her only daughter, Princess Anne sitting on a sofa in the White Drawing Room at Windsor.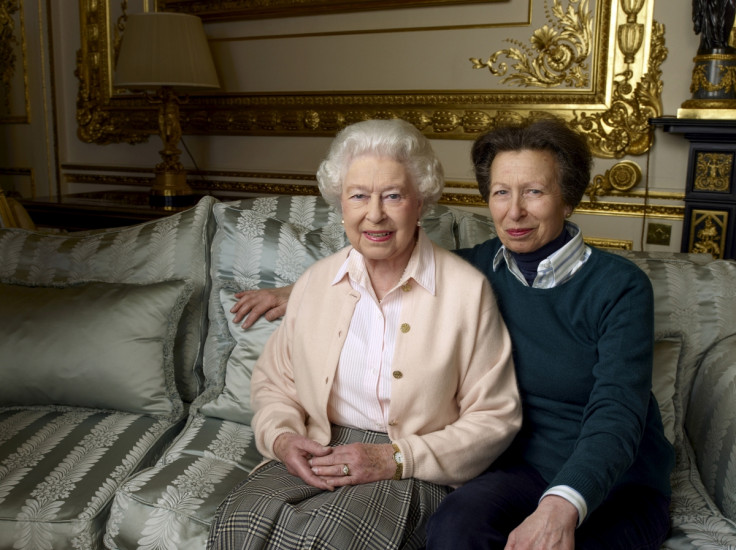 The pictures were released as Britain prepares to celebrate the Queen's birthday with gun salutes due to take place around the country at noon. Prime Minister David Cameron will lead the tributes and is expected to say: "Her Majesty The Queen has lived through some extraordinary times in our world.
"From the Second World War to the rations with which she bought the material for her wedding dress," Cameron will add. "From presenting the World Cup to England at Wembley in 1966 to man landing on the moon three years later.
"From the end of the Cold War to peace in Northern Ireland.
"Throughout it all, as the sands of culture shift and the tides of politics ebb and flow, Her Majesty has been steadfast – a rock of strength for our nation, for our Commonwealth and on many occasions for the whole world." Labour leader Jeremy Corbyn said he is looking forward to wishing the head of state a happy birthday.
Beacons of light
Today's (21 April) celebrations are expected to be relatively understated. According to the BBC, the celebrations will begin with a walkabout in Windsor where the monarch will unveil a plaque to mark The Queen's Walkway, a 6.3km (3.9 mile) trail set up by the Outdoor Trust to pay tribute to her 63-year reign.
Gun salutes will be fired at noon from the UK's capital cities as well as other points in the country. In the evening the Queen will light the first of a series of beacons which will also be lit across the United Kingdom, Channel Islands, Isle of Man and UK Overseas Territories. More than 900 beacons will be lit worldwide in honour of her birthday.
The Queen will then be presented with an orange drizzle cake with orange curd and buttercream by the Great British Bake Off winner, Nadiya Hussain.
Prince William pays tribute to the Queen
The Duke of Cambridge paid tribute to the Queen on the eve of her 90th birthday. "The Queen's duty and her service, her tolerance, her commitment to others – I think that's all been incredibly important to me and it's been a real guiding example of just what a good monarch could be," he said.
The future king also responded to "workshy" criticisms and said he accepted that he is "going to get plenty of criticism over my lifetime, and it's something that I don't completely ignore, but it's not something I take completely to heart".
"When the Queen decides that she's going to hand down more responsibilities, I'll be the first person to accept them," Prince William added. "I take duty very seriously. I take my responsibilities very seriously. But it's about finding your own way at the right time, and if you're not careful duty can weigh you down at a very early age."