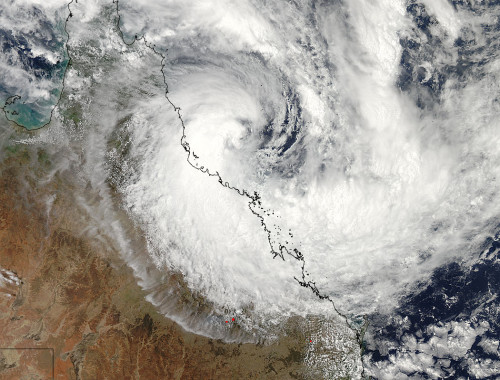 Tropical Cyclone Dylan has made landfall on Australia's northeast coast, with areas of Queensland set to be badly affected.
Nasa images show strong storms affecting the coast, with the southwestern side of the cyclone hitting Queensland.
The pictures show a concentration of strong thunderstorms in the centre of the circulation, with a large band of thunderstorms wrapping in the centre from the south, Nasa said.
Temperatures of the high cloud tops exceeded -52C, meaning the thunderstorms have the capability of dropping heavy rainfall.
"Heavy rainfall, flash flooding, storm surge and gusty winds are all threats to Queensland as Dylan moves closer. A Cyclone Warning posted by the Australian Bureau of Meteorology remains in effect on January 30 and 31 for coastal and island communities from Cardwell to St. Lawrence extending to adjacent inland areas, including Collinsville."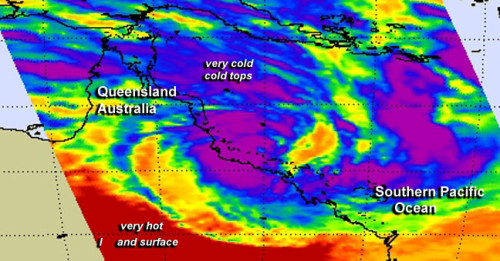 Tropical Cyclone Dylan is expected to dissipate within one day, but in the meantime, residents are warned of flash flooding, heavy rain, tropical storm-force winds and storm surges.
Earlier, the BoM said winds are expected to reach up to 150km/h, with heavy rain and a dangerous storm tide expected to affect areas between Lucinda and St Lawrence, including Townsville.
"The sea is likely to rise steadily up to a level well above the normal tide, with damaging waves and flooding of some low-lying areas close to the shoreline.
"People living in areas likely to be affected by this flooding should take measures to protect their property as much as possible and be prepared to follow instructions regarding evacuation of the area if advised to do so by the authorities."
In Townsville, three emergency shelters have been set up for residents. Townsville Mayor Jenny Hill said: "Residents in these low-lying, coastal areas that are usually impacted by king tides can expect to see additional water inundation of up to 1.5 metres above the predicted tide.
"If you do not feel safe to remain in your property during the king tide event you can relocate to friends and family for a few hours until the tide recedes."