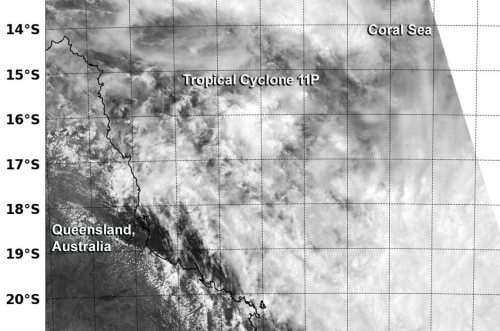 Nasa has released a satellite image of Tropical Cyclone Dylan moving towards Queensland.
The tropical cyclone showed the storm developing and heading to Australia's north east coast. Nasa said: "The image showed a more rounded circulation than the previous day, and bands of thunderstorms over the storm's southern semi-circle.
"The Australian Bureau of Meteorology or ABM has issued a Cyclone Warning for coastal and island communities from Cairns to St Lawrence, including Townsville and Mackay. A Cyclone Watch remained in effect for communities through the eastern interior including Charters Towers and Moranbah."
The space agency noted that the Joint Typhoon Warning Centre had indicated that bands of thunderstorms had appeared.
At present, the cyclone has winds of around 60km/h. The JTWC expects the cyclone to strengthen before making landfall, which it predicts will happen at around 5am (GMT) on Friday morning.
A satellite image from Australia's BoM also shows the cyclone's eye developing further: The monsoon trough extends from the Kimberley region of WA, across the Top End and Cape York Peninsula to Tropical Cyclone Dylan, currently 205km northeast of Townsville.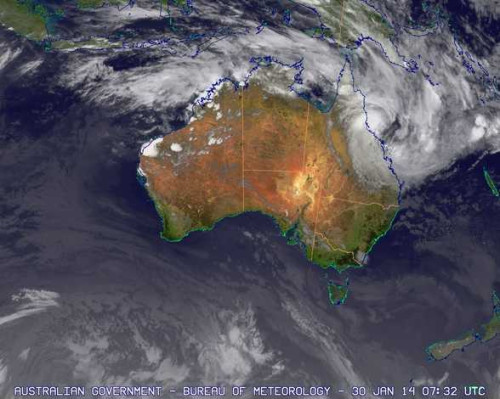 "Occasional thunderstorms are occurring around the cyclone, while broad areas of cloud with embedded thunderstorms are evident in the vicinity of the monsoon trough. A broad area of low pressure over northern WA is producing scattered thunderstorm activity which extends down the west coast.
"Isolated thunderstorms are also seen over the Bight and over the Great Dividing Range near the NSW - Victoria border. A moist onshore flow along the north coast of NSW is producing areas of low level cloud."
The BoM said the cyclone warning remains in place for coastal and island communities. It has a strong ridge of high pressure that are generating gales, noting that winds are expected to increase to result in "destructive wind gusts" of up to 150km/h.
"Heavy rain, which may lead to flash flooding, is expected to develop about coastal and adjacent inland areas of the Herbert and Lower Burdekin and the Central Coast and Whitsundays districts during today," it warned.
"Coastal residents between Lucinda and St Lawrence, including Townsville are specifically warned of the dangerous storm tide, particularly on the high tide today and on Friday.
"The sea is likely to rise steadily up to a level well above the normal tide, with damaging waves and flooding of some low-lying areas close to the shoreline. People living in areas likely to be affected by this flooding should take measures to protect their property as much as possible and be prepared to follow instructions regarding evacuation of the area if advised to do so by the authorities."