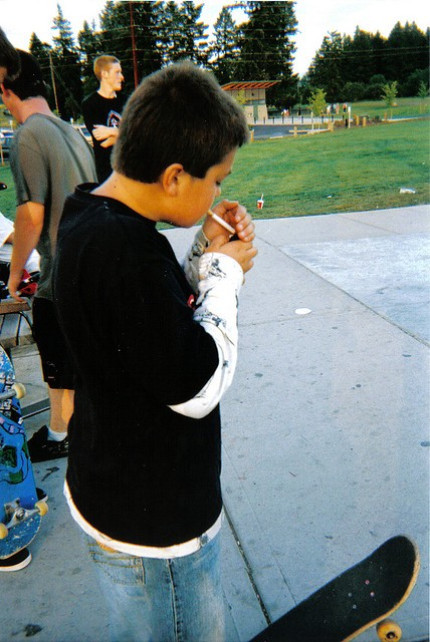 A quit smoking service has been launched to target smokers as young as 11 in Wales.
The Filter was launched by Action on Smoking and Health (ASH) in Wales to target children aged between 11 and 115.
It aims to reduce the number of child smokers in Wales and is funded through an £850,000 grant from the BIG Lottery Fund.
It is estimated that 14,500 people between 11 and 15 try smoking every year in Wales. Marc George, 17, from south Wales, had become a regular smoker by the age of 14.
"My older brother was smoking and my friends so I decided to start," George said. "I was close to my brothers' friends and they smoked too. My family don't agree with it and they think it's a disgusting habit.
"I still do smoke but don't smoke more than 10 in a day unless I go on a night out. I afford it as I work two jobs and buy [rolling] tobacco instead of cigarettes."
In Wales, smoking accounts for over 5,600 deaths every year.
Jamie Jones-Mead, programme manager for The Filter, said 14 percent of 15-year-old girls and nine per cent of 15-year-old boys regularly smoke.
Olympic medalist backs campaign
"There is a big gap in smoking advice and support tailored to young people in Wales, and we hope that this project will reach out to those who are falling through the net," he said.
"Because most smokers experiment with cigarettes in their teenage years it's crucial that a targeted service is available early on to give them the facts about tobacco and the harm it causes before they are even tempted to start. By the time they want to give up many are too addicted to stop.
"Up to now education about smoking has been very adult focussed and usually delivered by authority figures. Quite often it's seen as punitive as well.
"Our project will have young people at its heart; we will communicate with them on their terms and hopefully what we do will resonate with their everyday experiences."
The campaign, which includes a telephone 'quitline', has been backed by Olympic rowing silver medallist Chris Bartley.
He said: "It's great news that we're going to have a dedicated service in Wales to help young people to quit and to offer advice and information about smoking through new ways.
"I want to see more kids with the confidence to say 'no' to smoking and I hope that The Filter will encourage more and more young people in Wales to turn their back on tobacco."
George added that while he would consider quitting, he has no motivation to do it: "I have tried to give up once using the electronic cigarette but it only lasted a day. I think young people smoking is down to peer pressure, they want to see what it tastes like and also think they're cool in front of their mates."