Rachel Dolezal: White US woman who identifies as black says 'the idea of race is a lie'
Dolezal believes that 'gender is not binary' and called for racial fluidity to be compared with transgenderism.
Rachel Dolezal, the white American woman who for 10 years pretended to black, has claimed that the idea of race is a "lie" and she should be free to claim her own ethnicity.
Dolezal, 39, taught courses on African-American history and became president of a branch of the National Association for the Advancement of Colored People (NAACP).
But in June 2015 she sparked controversy when a reporter asked her if she was African-American and she gave a mumbled reply, saying that she did not understand the question.
The clip went viral and Dolezal found herself vilified by some quarters of both the white and black communities.
Dolezal has now written a new book about her experience, In Full Color: Finding My Place in a Black and White World.
In an interview with Emily Maitlis for BBC's Newsnight in her home in Spokane, Washington, she argued that race is a "political construct" and said that she believes in "racial fluidity".
She said: "The idea of race is a lie. How can you lie about a lie?...I did not feel like a lie, it felt like a true representation of who I am and what I stand for. Because even though race is a social construct in America there is a very clear colour line. A very clear divide and you have to take a side.
"It's not even biological. But what strikes me as so odd is that race isn't biological either. And actually race has been to some extent less biological than gender, if you really think about history and our bodies. There isn't, like, white blood and black blood."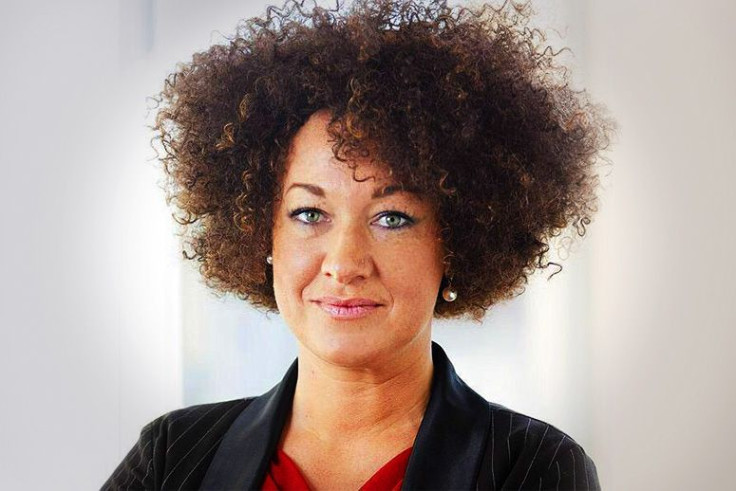 Dolezal says she believes in the concept of "transracial" in describing people like her.
"Gender is understood – we have progressed, we have evolved into understanding gender is not binary, it is not even biological but what strikes me as so odd is that race is not biological either and actually race has been to some extent less biological than gender," she said.
Born in rural Montana, the 39-year-old says she was beaten and brutally punished as a child. Her parents adopted four black siblings and she eventually moved to study at a university in the deep south,
Dolezal claims it was at this point she felt socially and culturally black, and speaks in the book of leaving the "white world" to make "a headlong dash" for the black one.
"I definitely did not feel at home in the family in the white world...it felt oppressive," she said in the interview.
Criticised for cultural appropriation Dolezal claimed that by not acting as a black woman it would be a betrayal of herself and her black community which she had represented and campaigned for.
After watching the interview Guilaine Kinouani, a equality consultant and writer, said: "Her inability to acknowledge her privilege as a white woman being able to occupy or inhabit a lived experience of a black woman.
"Black people cannot occupy the lived experience of white people."
© Copyright IBTimes 2023. All rights reserved.