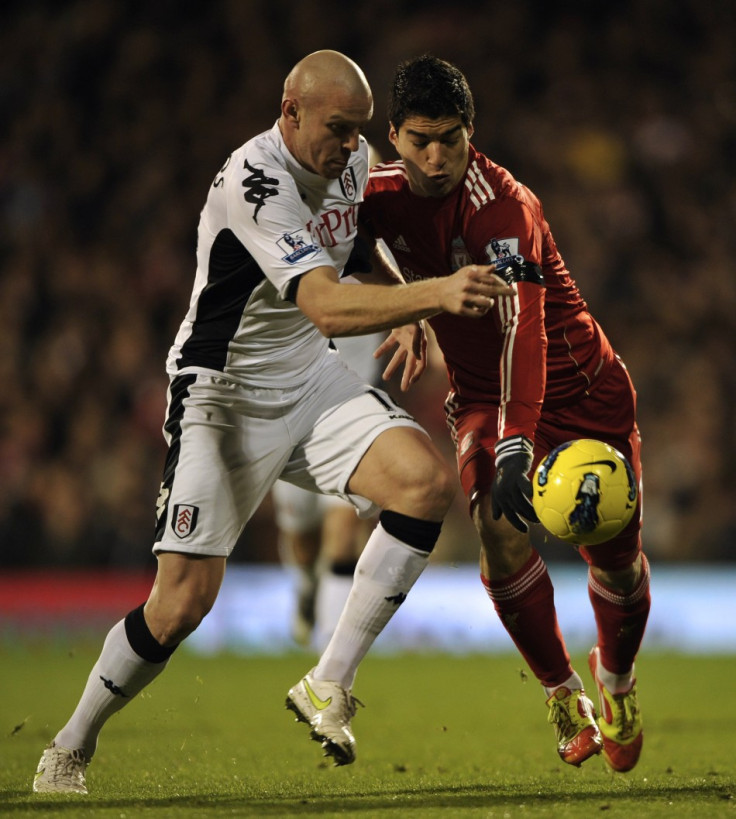 Already infamous for his alleged racist remarks, Liverpool striker Luis Suarez is in fresh trouble after he made an offensive gesture to the Fulham fans - a one-fingered send-off - following his team's defeat.
The Uruguayan footballer, who has been charged by the Football Association over alleged racist remarks targeting Manchester United defender Patrice Evra in October, was seen making the obscene gesture to the audience after the match at Craven Cottage.
Clearly Suarez was suffering from Monday blues after he disallowed a goal in a borderline offside call. To make things worse, referee Kevin Friend turned down Suarez's penalty appeal when he went over after a challenge by Brede Hangeland in the second half. Moreover, the 24-year-old footballer was subjected to cries of "cheat" from the Fulham home support.
Reports suggest that the FA disciplinary chiefs will decide on Tuesday whether to investigate the incident further.
It was a miserable day for the Reds manager, Kenny Dalglish, after midfielder Jay Spearing was sent-off with a debatable refereeing decision. Spearing received the red card for a reckless tackle on Moussa Dembele after 72 minutes. The matchless goal received the winner from Clint Dempsey in the 85th minute.
"I'm sure we've had the rub of the green in previous games. But not tonight. And we certainly deserved something," said Dalglish, confirming the club's appeal to consider Spearing's red card, reported the Telegraph. "Jay will be upset, obviously. But we will look at it and see if it's worth while appealing for."
Despite his team's loss to Fulham, Dalglish showed his ever-supportive nature towards Suarez. However, the Scottish manager did not dismiss the controversy and admitted he may be forced to talk to Suarez about his actions.
"I haven't seen the picture and I'm not taking anybody's word for it," reported the Telegraph quoting Dalglish as saying.
"If you show me the picture and I'm convinced that what you're saying is true, then I've got a decision to make."
When enquired about the episode of Suarez being taunted as a "cheat" by Fulham fans, the 60-year-old manager termed the event as "scandalous."
"That's scandalous. I would like to see you write that in the paper because you would be in a bit of trouble as well. You write what you want to write. At the end of the day, we will look after Luis the best we can and I think it is about time he got a wee bit of protection from some people," the Guardian quoted Dalglish as saying.
As Suarez waits for the FA decision with bated breath, it can be recollected that Fulham's Chris Baird was given a two-match ban after he showed the referee Lee Mason a V-sign last season. Even Manchester United player Wayne Rooney was banned for two games in the last season for swearing into a television camera after celebrating a goal at West Ham United.