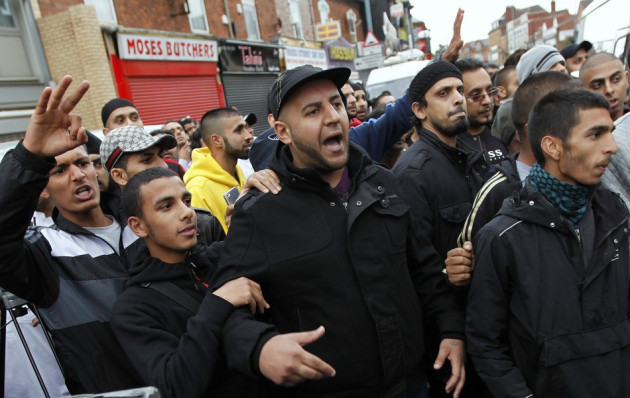 A judge has appealed for calm after eight men were cleared of murdering three friends during the riots in Birmingham, amid fears that the verdict would ignite simmering racial tension in the area.
Ryan Goodwin, 21, Shaun Flynn 26, Ian Beckford, 30, Juan Ruiz-Gaviria, 31, Adam King, 24, Joshua Donald, 27, Everton Graham, 30 , and Aaron Parkins, 18, denied planning the deaths of Haroon Jahan, 20, and brothers Shazad Ali, 30, and Abdul Musavir,31 on August 10.
The prosecution claimed that the three men were protecting local businesses as part of a group of 80 people when they were hit by a car in the Winson Green area.
Judge Julian Flaux called for calm following the verdict as fears grew of recriminations and vigilante justice.
He said: "On any view this has been a terrible case - a tragic and pointless loss of young lives.
"However, by their verdicts the jury have decided that this was not a deliberate killing, that there was no plan to kill these three young men. The jury have decided this was a terrible accident.
Honouring those who died
"It is important that however strong feelings are within the community in Winson Green and adjacent areas, that calm is maintained and that these verdicts are respected.
"Any other action would not be honouring those who died. In fact quite the reverse. What happened on the streets of Birmingham and other cities last August should never be repeated."
The 2011 summer riots saw many communities across England feel the strain along racial and social divides. The Bishop of Aston, Rt Rev Andrew Watson, described it as an "ugly race dimension".
The evening after the three men died, Tariq Jahan, father of Haroon, made a public plea that there would be no revenge attacks, when it was found that the vehicle's driver was Afro-Caribbean.
Councillor Waseem Zaffar, for Lozells, Birchfield and Handsworth told Reuters: "If the racial tension level in Winson Green and Birmingham was 2/10 before the riots, and increased to 8/10, he [Jahan] certainly brought it back down to 3 or 4/10."
Community figures and the police have stressed throughout that there was no racial dimension to the riots. Speaking soon after the riots in London, Chuka Umunna, Labour MP for Streatham, told the Guardian: "Those who seek to radicalise this problem are seeking to take our communities back to the place where they are not."