If you love listening to the radio and want to explore more around the globe, it might be worth checking out Radio Garden – an interactive online art installation that lets users instantly tune into radio stations from multiple countries from both desktop computers and their smartphones.
Radio Garden was created by Amsterdam-based interactive design firms Studio Puckey and Moniker for the Netherlands Institute of Sound and Vision, which is currently researching transnational radio to understand different cultures and communities as part of the Transnational Radio Encounters project – with six universities from the UK, Denmark, Germany and the Netherlands.
The website currently features live streams from 7,877 radio stations from 3,819 cities in 159 countries spread across an interactive globe. With the click of a mouse button or a swipe on a smartphone, users can expand and explore the site, which now has 300 more stations asking to be added to it.
"We launched Radio Garden on Monday 12 December and it went organically viral from Twitter. I just shared it on my account and it grew from there," Jonathan Puckey, 36, director of Studio Puckey told IBTimes UK.
"We weren't expecting this thing to become so successful, it's been really exciting for us. I've had two hours of sleep as I've been manning the server and making sure it works as we go viral in Brazil, Oman, India, US and Europe."
Learn about different cultures using radio
The point of Radio Garden is to remove borders and countries in order to give the user the experience of travelling across the globe to experience different types of radio, so there are no city or country names.
"There are all kinds of different stations. Some are internet-only stations people are running from their homes, others are radio stations that functions like companies, other radio stations are national broadcasters," he said.
On Thursday 15 December, a tweet about a Welsh community radio station on Radio Garden went viral in Brazil on Twitter, and at one point, 1,500 people in Brazil were listening to the Welsh station.
Users simply click and drag to explore the world map and click on green dots when they feel like listening to a radio station – larger dots represent a city that has over 20 radio stations, and the user is given the option to scroll through and listen to each station using a menu in the bottom right-hand corner of the website.
Users can also learn more about the history of radio, signature jingles and milestones in radio in different countries by clicking on different tabs on the website, which includes fun facts and pictures.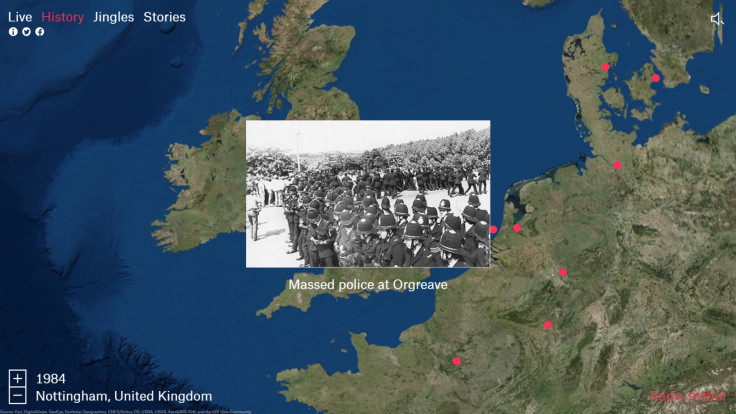 Want to join? Streaming MP3 stations welcome
You probably know this already, but just to be clear, Radio Garden isn't using any radio receiving equipment to pick up stations – the static noise is a sound effect to make users feel comfortable, and the radio stations listed work on the website because they are already publicly-available online streaming stations.
To be eligible to work on the website, the radio stations must be streaming MP3 stations. This is why some parts of Asia on the map seem a bit empty – this is because many of the radio stations in these countries use proprietary Windows Media codecs, which are not compatible with the web.
"This is a non-commercial project funded by public money. The research group is adding content to the website but we've had so much interest in the site, we're going to have to set up a system to figure out how we can keep adding new radio stations quickly," said Puckey, who says only one radio station has asked to be removed from the website.
"It's been surprising nice to see people talking about stories of radio on sites like Reddit, and recommending new radio stations to each other. People are talking about how interesting this project is in this political climate. It was not our intention but I think it has been heartwarming how people are talking about the project and using it as a tool to communicate with each other."