Radiohead 2016 world tour: Tickets going for £3,000 after band's Roundhouse shows sell out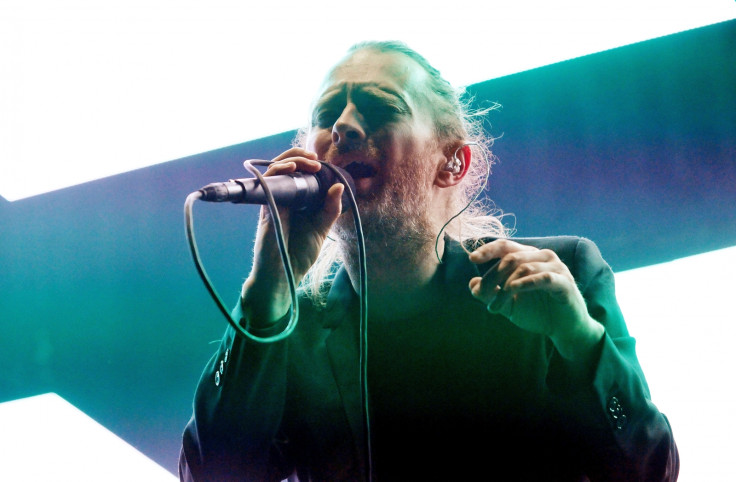 Thousands of Radiohead fans been left disappointed after tickets for the band's world tour selling out in just one hour. Tickets for the intimate shows went on sale at 9am on 18 March 2016 but with availability limited, it proved difficult for fans to purchase.
As part of the 13-date world tour, Radiohead, consisting of Thom Yorke, Ed O'Brien, Philip Selway, Colin Greenwood and Jonny Greenwood, will play three consecutive nights at London's Roundhouse from 26-28 May. However, just over an hour after tickets went on sale, the Camden venue announced that all tickets had been snapped up. The venue usually hosts smaller indie acts like Savages and Public Service Broadcasting, as well as dance and circus-based events, rather than hosting huge acts like Radiohead.
The Roundhouse tweeted: "Thanks for your patience this morning everyone. We experienced unprecedented demand for @radiohead. All tickets are now sold out." They had previously warned fans: "We're experiencing huge demand for @radiohead, if you're in the queue please be patient."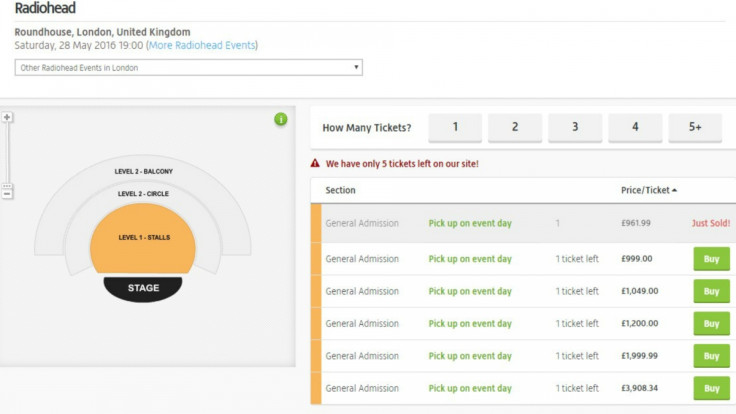 Tickets appear to have also sold out via Ticketmaster UK, however, secondary ticket-selling sites such as Viagogo are advertising limited availability beginning at £900 and soaring to as much as £3,908 for just one ticket. Explaining the increased ticket prices, a spokesperson for Viagogo said: "Sellers set the prices on viagogo and for popular events such as Radiohead, prices can be higher because there is huge demand and limited supply."
Joining the legion of ticket-less fans, one Twitter user commented: "Cheers Radiohead for making that basically impossible," while another chimed in: "I wonder if anyone got #radiohead tickets, as they were sold out before they became available."
Another joked: "I don't think Radiohead even got Radiohead tickets," and another referenced the band's famous track High And Dry, writing: "Don't leave me hiiiiighhhhhhhhhhhdont leave me drrryyyyty pls roundhouse without radiohead tickets ow."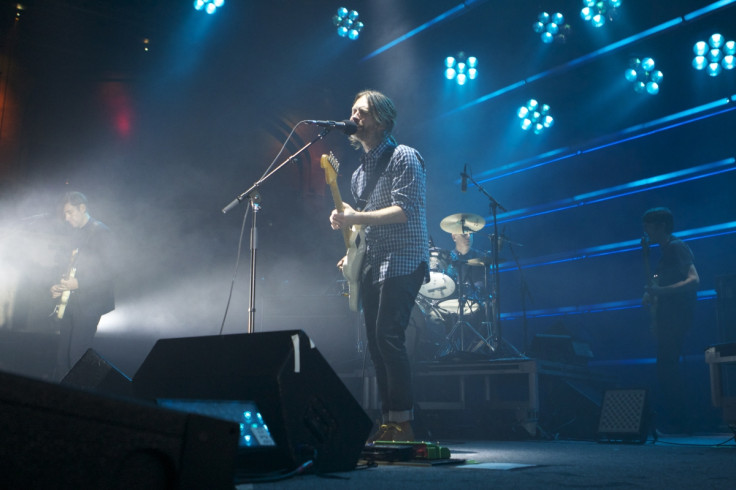 Announcing the anticipated tour in a statement, the band said in a statement: "These are all the headline shows that the band will play in 2016. To minimise secondary ticketing and to give more fans a chance to buy a ticket at its intended price, restrictions will apply, including a limit of 2 tickets per order on all shows."
It is not yet known if Radiohead will have a new album to promote when the shows launch in May with their last album, The King Of Lambs, released in 2011.
© Copyright IBTimes 2023. All rights reserved.