A mere six hours on from the confirmation of Pep Guardiola's appointment as Bayern Munich's new manager from July, Rafael Benitez's position as Chelsea's interim boss was supposed to have been cemented. Instead, after a 2-2 draw with Southampton at Stamford Bridge, the scene of just one league win during the Spaniard's reign, the only aspect of his tenure one can be certain of is the distain shown by The Blues' support is likely to swell further still.
Demba Ba and Eden Hazard had at least kept the Chelsea wolves from the door at the break on Wednesday evening, with two smart finishes as a stylish but brittle Southampton were put to the sword to evoke memories of their emphatic FA Cup defeat 11 days previous.
But at least in the league, Nigel Adkins' side are now built of stronger stuff. Rickie Lambert, who continues to be used sparingly, headed in to halve the deficit before Jason Puncheon scored his fourth goal of the season with a crackerjack volley into the top corner.
While the draw stretches Saints' advantage over the drop zone to three points, the draw for Chelsea extinguishes any lingering hopes of a late season charge for the Premier League title. Of immediate concern on the pitch will be to secure one of the two remaining Champions League spots, a campaign which will hinge on their meeting with Arsenal this weekend.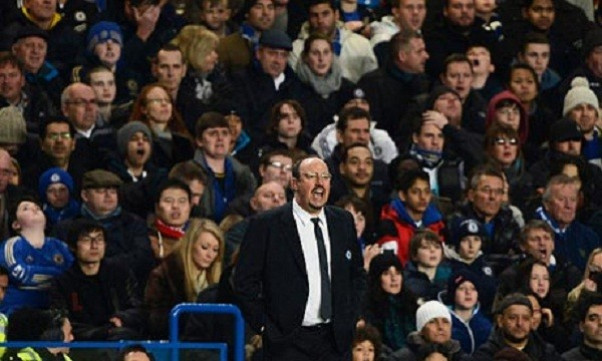 "We can't be happy drawing at home, the next game has to be totally different, it's another challenge and we have to try to win the game," Benitez said.
"My idea is always to think about the next game, we have to be sure of getting three points in the next game against Arsenal.
"I'm disappointed; when you know your players and know what you can do it's difficult. We have to start thinking about how we will prepare for the next game, and that's what we'll do tomorrow.
"It's about analysing and trying to coach the players in the right way. We know the problems we have when the other team is well organised. We have to keep training and sustaining the ball."
With the No.1 contender to replace Benitez now unavailable, it's worth considering what represents success for Chelsea this season, and what might ensure the Spaniard's return to football management isn't a passing fling.
Benitez's prowess in cup competitions is there for all to see, having reached five cup finals in his six seasons at Liverpool, and with a fourth round tie against Brentford on the horizon, Chelsea must be considered among the favourites for The FA Cup, while a League Cup final appearance isn't beyond them either.
The Europa League will work as a sideshow, but again Benitez's prowess in two-legged ties could come to the fore. However, a failure to finish in the Champions League qualification places would supersede any domestic cup success.
But what would represent achievement for the Chelsea fans who despite their longing to see Benitez's head, continue to attend matches? After Guardiola's appointment, their ambitions may need to be tempered.