Hundreds of buses around the country are to carry adverts praising Allah to raise money for victims of war and disasters in countries like Syria. Islamic Relief, a UK charity backed by the government, says it wants to use the initiative to "break down barriers" and show Islam in a positive light.
The organisation has paid for buses in London, Manchester, Leicester, Birmingham and Bradford to carry the adverts during Ramadan. The adverts feature the phrase "Subhan Allah", roughly translated as "Glory be to Allah".
Imran Madden, the UK director of Islamic Relief, said: "In a sense this could be called a climate change campaign because we want to change the negative climate around international aid and around the Muslim community in this country.
"International aid has helped halve the number of people living in extreme poverty in the past 15 years, and British Muslims are an incredibly generous community who give over £100m to international aid charities during Ramadan."
The initiative is backed by England cricketer Moeen Ali, who said: "I hope it will encourage debate and increase understanding."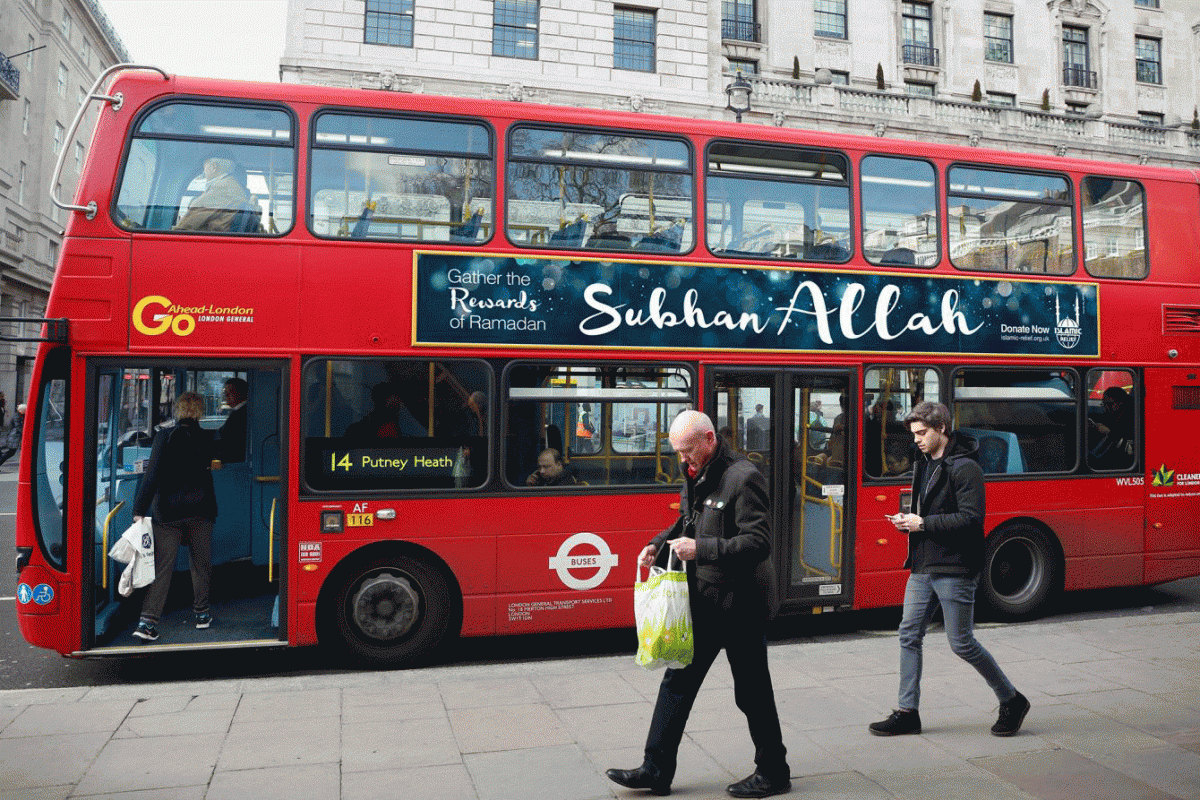 Ramadan, the holiest month in the Muslim calendar, is due to start on 6 June. It sees Muslims fast during the day as well as donating to charitable causes.
Islamic Relief promoted its campaign on Twitter with the hashtag #YesWeKhan, referring to Labour's Sadiq Khan, who has now become London's first ever Muslim mayor. The capital is estimated to hold about half of Britain's three million Muslims.
Advertising on buses in London is governed by Transport for London (TfL). It bans political adverts but usually allows religious promotions. In 2012, Boris Johnson banned controversial "gay cure" adverts due to run on London buses after critics claimed they were homophobic.
In November, the Church of England criticised a number of UK cinema chains after they banned a planned 60-second advert that featured the Lord's Prayer. The Digital Cinema Media (DCM) agency, which handles British film advertising for Odeon, Cineworld and Vue, declined to show the advert, fearing it would offend some members of cinema audiences. The DCM said it was adhering to its policy of not showing religious or political advertising.