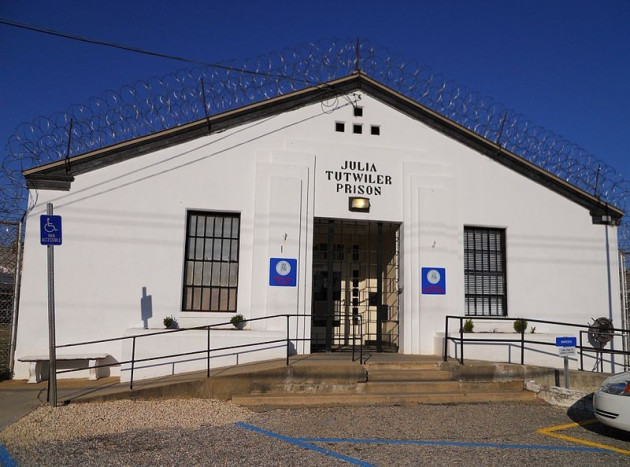 Tutwiler Prison for Women in Alabama became a sexual warzone for its inmates, preyed upon by the men suposed to protect them - a stark example of how the rape crisis in US prisons remains unchallenged.
The US prison rape issue is highlighted in a new BBC report, which found that although new measures are being taken to protect inmates, sex attacks remain common.
One-in-ten US prisoners claim to have been victims of sexual victimisation by fellow convicts or guards. But in Alabama, a Montgomery-based NGO, Equal Justice Initiative (EJI), interviewed 50 inmates from the Tutwiler Prison for Women and found evidence that every prisoner had either experienced some form of sexual attack themselves, or knew of someone who had.
Monica Washington, one of the inmates, was raped by a prison guard, resulting in her getting pregnant and having a baby, Robert Chancey, her cousin said.
He explained: "The guard told her when he took her in the room what he wanted to do to her and she said 'No'. He told her: 'Who do you think they're going to believe - you or me?' So she proceeded just to do what he wanted her to do."
Disturbing findings
Charlotte Morrison, a lawyer for EJI representing Washington, said: "We know of numerous pregnancies, including three since 2009. We interviewed over 50 women at Tutwiler - what we found was really disturbing.
"Every single woman we interviewed had been either sexually assaulted, sexually harassed or had witnessed another female inmate being sexually harassed or sexually assaulted."
The Department of Justice has now launched a formal investigation into conditions at Tutwiler,
The Department of Corrections is yet to make any changes in leadership at Tutwiler, despite Morrison saying they must be held accountable.
"In the face of documented and repeated criminal misconduct and institutional misreporting the legislature should demand substantive changes in the leadership at Tutwiler prison," she said.
"The continuing and documented incidence of sexual abuse and corroborating statements from facility staff illustrates that the current leadership's response thus far has been wholly inadequate."
Washington, who is serving a 20 year sentence for robbery, could not hide the pregnancy or how it happened for long.
The guard was prosecuted for criminal sexual misconduct but not for rape. Morrison said he was not charged with rape because there was no investigation into the case.
Chancey added: "He got six months. I don't even understand that. That's like a slap on the wrist."
Outageous abuse of power
A report into prison rape published by the Department of Justice in June found that 9.6 per cent of former state prisoners experienced at least one incident of sexual victimisation.
It found 5.4 per cent reported an incident involving another member of staff, while 5.3 reported sexual victimisation by a facility staff member.
However, some prison officials refuse to believe the statistics. Larry Amerson, a local sheriff in Alabama, said: "I think they are greatly over-stated. Do sexual assaults happen? Yes. Are some inmates in particular at risk? Yes. But in 37 years doing this job, I'd be surprised if it was two per cent unwilling participation.
"There is willing participation in sexual acts every day. The question is - when does it cross that line?"
Until the Department of Justice concludes its investigation, conditions at Tutwiler are unlikely to change. The EJI found that the warden and correctional officers punish and humiliate women who report sexual misconduct; placing them in segregation, denying them contact with their families and stripping them of their possessions.
EJI executive director Bryan Stevenson said in a letter to the Justice Department: "Rape and sexual assault of incarcerated women is criminal and an outrageous abuse of power.
"Any failure by state and federal officials to respond quickly and appropriately to reports of sexual violence will contribute to tragic and shameful conditions of confinement for women."