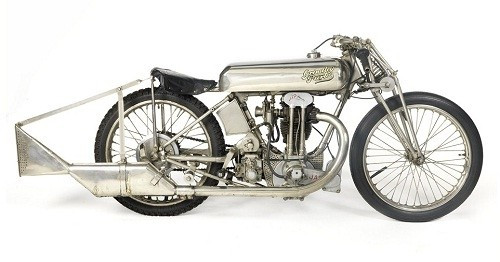 An extremely rare racing motorcycle from the 1920s that lapped the famous Brooklands race circuit at over 100mph is expected to generate intense competition among bidders at the Bonhams Autumn Stafford Sale on 21 October, 2012.
One of only two of its kind known to survive, the 1929 Grindlay-Peerless-JAP 500cc "Hundred Model" (estimate £50,000 - 70,000) won the Brooklands "Gold Star" award in 1937 at the hands of prominent VMCC member, the late Edmond "Boy" Tubb.
According to Bonhams' official website, when Grindlay-Peerless rider C W G "Bill" Lacey became the first man to cover 100 miles in an hour on British soil in August 1928, the Coventry factory lost no time in bringing out a replica of his machine, the Brooklands "Hundred Model", of which only five or six were ever made.
Offered for sale by the Tubb family, this Grindlay has been displayed at the Brookland Museum since the late 1980s, and used by the Brooklands Society on numerous demonstration runs in recent years.
Other notable early consignments for the Stafford sale include a collection of three Velocettes owned by world-famous motorcycling authority and prolific author, the late Jeff Clew.
The collection includes a 1930 KTT racer (estimate £20,000 - £25,000), an ultra-rare 1929 Speedway model (estimate £7,000 - £10,000), and a 1957 Valiant (estimate £36,000 - £40,000), all of which have been displayed at the Haynes Motor Museum in Dorset since Jeff's passing in 2009.
Raced at Brooklands and in the Manx Grand Prix by its first owner Harold Lamacraft and later at Brooklands by Bert Perryman, the KTT was restored by Jeff in the 1960s to be as close as possible to original specification. Since the completion of this restoration in 1967, it has been ridden on closed roads over part of the Isle of Man TT course for the Manx Grand Prix's 50th anniversary in 1973, and also at Brooklands Revived events.
"Brooklands machines rarely come to market so we are truly honoured to be offering not one but two important examples at our Autumn Stafford sale," Ben Walker, Director of the Bonhams Motorcycle Department stated. The ex-Edmond "Boy" Tubb 1929 Grindlay-Peerless represents the period of "no fear" motorcycle racing when Brooklands was the centre for the world's most epic speed record attempts.
Other notable highlights of the sale include a recently restored 1910 Rex 5hp De Luxe V-twin that has participated in the Pioneer and Banbury Runs since completion in 2007 (estimate £14,000 - £18,000) and a 1930 Brough Superior "Overhead 680" restoration project (estimate £20,000 - £30,000).