Rare key which opened Titanic life jacket locker sells for £85,000
The historic item was owned by a third-class steward who was on board the Titanic on the night of the sinking.
A key used by a steward who was on board the doomed liner Titanic has been sold for £85,000 ($103,959).
The key and a watch, both of which were owned by Samuel Francis Sedunary, 23, from Shirley, Southampton, were sent to his wife, Madge Tizzard, after he was found dead and was kept within the family ever since.
The key has a tag attached to it labelled "Locker 14 F Deck". It is thought to show that Sedunary worked on the F deck.
The key was sold through auctioneers, Henry Aldridge & Son in Devizes, Wiltshire who specialise in antiques and collector's items.
The company has built a reputation for selling Titanic memorabilia and have previously made headlines for selling a postcard worth £19,000 ($23,237) .
The postcard belonged to Jack Phillips, a wireless operator on board the sunken ship.
A letter which belonged to Charles Lightoller, the ship's second officer, a survivor of the sinking, has also previously been sold for £34,000 ($41,583).
Lightoller wrote about his colleagues' bravery and how they accepted their fate. The note reads: "They were all perfectly calm in the knowledge that they had done their duty and were still assisting by showing a calm and cool exterior to the passengers.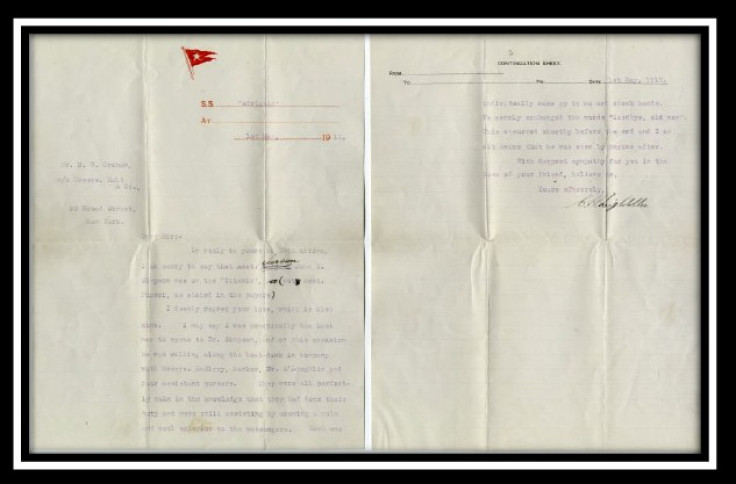 "Each one individually came up to me and shook hands. We merely exchanged the words 'goodbye, old man'.
"This occurred shortly before the end and I am not aware that he was seen by anyone after."
The Titanic's F deck had 12 sections, which held cargo, the third class steward rooms and a pantry. Sedunary worked as an errand boy for a grocer when he was aged 14. He later became a ship steward.
The Titanic's route was from Southampton, England to New York, US. It departed from Southampton's port on 10 April 1912. More than 1,500 people died when it sank after striking an iceberg on 15 April, 1912.
© Copyright IBTimes 2023. All rights reserved.